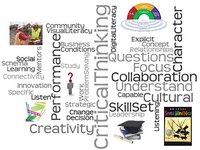 Competency is typically defined as the skills and abilities demonstrated by a person successfully doing a task. Competency-based job descriptions describe the technical skills, such as writing and programming, required, as well as the non-technical skills, like planning and leading, necessary to perform a job. The job description also indicates what knowledge (information an employee must have) is needed. Necessary certification or licensing is listed, too.
History
The Harvard Business Review introduced the term "core competency" in 1990. As applied to hiring, competency refers to the specific expertise required to do a job. Traditional hiring focused only a candidate's experience while competency-based hiring also involves examining a candidate's behavioral characteristics and aptitude. A qualified applicant with leadership qualities can be considered for, and obtain, a management job without actually having leadership experience.
Function
Create competency-based job descriptions when you need to specify common criteria on which to evaluate potential applicants. A description lets employees know exactly what is required to perform the job and helps them assess if they have the appropriate skills and experience. This type of job description also helps you identify qualified job applicants more quickly.
Features
A competency-based job description includes the job title, prerequisite knowledge, technical and non-technical skills required, job-incentive packages, such as commissions and benefits, if applicable, company business description, major responsibilities and specific requirements, including not only work hours but also expertise such as technical knowledge or leadership capacity. Job-description supplements known as operating policies and procedures manuals provide the details regarding day-to-day work. Unlike job descriptions, these manuals should be updated regularly.
Conducting a Competency Analysis
Federal laws guide employers when hiring workers. The laws prohibit discrimination. Ensure that your company is never the target of a candidate rejection lawsuit by making certain your job descriptions are accurate and the hiring process is conducted appropriately. Concentrate on job levels and families. Define entry (typically hourly positions), intermediate (managers) and senior (executive) positions. Then, group the tasks for employees at each level into families. Interview and observe people performing the job to validate the list of tasks. Your goal is to learn about their responsibilities, problems they solve, interactions with others and what they need to be successful.
Using Competency Based Job Descriptions
Once you have categorized your competencies for each job family, you can use this information during all recruiting, hiring and development processes. Structure your performance evaluations, pay scales, benefits and training programs around these competencies. If there are areas of the company facing high turnover rates, production-quality problems or absenteeism, consider comparing employee data to job competencies to elicit possible trends and potential solutions.