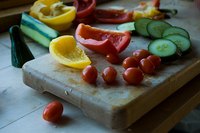 Proper nutrition and exercise are essential for living a healthy lifestyle. For people who work out strenuously with weights, the muscle tears and rebuilds as part of the natural growth and conditioning process. Unfortunately, active people are subject to more significant injuries including muscle strains, sprains and sometimes serious tears. To help recover from muscle injuries, make sure you get enough vitamins and other nutrients.
Co-enzyme Q10
Co-enzyme Q10 (CoQ10) may boost athletic performance and reduce muscle injury. A University of Tsukuba, University of Tokyo and Kobe Gakuin University study reported in the British Journal of Nutrition that markers for muscle damage were significantly lower in athletes who took coenzyme Q10 for as few as 20 days. The study measured elite practitioners of the Japanese martial art kendo.
The research concluded that CoQ10 reduced muscular injury brought on by exercise, largely because of the antioxidant potential. The coenzyme plays an important role in preserving levels of vitamin E and vitamin C, which are also important in recovering from muscle injuries.
Vitamin C
Vitamin C is an antioxidant. By neutralizing free radicals produced during strenuous exercise, vitamin C may reduce muscle pain and speed recovery following intense workouts. Vitamin C is also important in helping weight lifters avoid injury because it helps the body make collagen, which strengthens connective tissue.
Vitamin E
This vitamin is also lauded for its antioxidant qualities that neutralize free radicals in our cells. Reductions in indicators of muscle damage and free radical activity have also been reported when supplementing with vitamin E. These findings were established in three studies reported in Medicine & Science in Sports & Exercise, the International Journal of Sport Nutrition and Exercise Metabolism and the American Journal of Physiology, respectively.
In addition to helping maintain healthy muscle cells, vitamin E is also needed for rebuilding and repairing muscles between workouts.
Enzymes' Healing Power
The enzymes bromelain, papain, trypsin and chymotrypsin may help relieve minor injuries, including muscle strains, because of their anti-inflammatory properties. Preliminary trials, including M. G. Cirelli's report in Clinical Medicine & Research, point to the value of bromelain in healing from injuries. This research reports reduced pain and swelling—and increased healing—when using bromelain.
In addition to other research pointing to the healing potential of these enzymes when taken alone, a double-blind study in Amsterdam reported in Sports, Medicine and Health demonstrated improvements in healing from a combination of these enzymes.
Glutamine
Glutamine is a popular amino acid among weight trainers. Glutamine boosts glutathione, an antioxidant that helps the body recover from intense workouts and prevents muscle breakdown. It's a good supplement for overall muscle recovery and health.