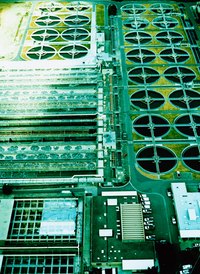 Wastewater management varies with the types of incoming wastes, and the standards they must meet for release. It ranges from highly toxic industrial waste to rainwater, every type with its own best management practices. Treatment facilities require constant maintenance, and new improvements to comply with tightening regulations.
Industrial Wastewater Treatment
Many different industrial processes generate wastewater, which may contain any combination of acids, metals, salts, oils and volatile compounds, chemicals, minerals, and solids. Separate processes treat each type of contaminant to acceptable levels. Solids can simply be filtered out. Acids are neutralized with lime to an acceptable pH level, and lime also precipitates heavy metals. Electrolysis precipitates dissolved compounds, which are separated mechanically. After treatment, the water might be discharged to the environment, or sent elsewhere for further treatment.
Municipal Sewage Treatment
Municipal sewage comprises sanitary wastes, food wastes and allowable amounts of soaps, fats and oils, salts and industrial chemicals. In many older systems, it also includes storm water from roofs and streets. "Gray water" is simply water from dish washing, laundry or bathing, and it can be discharged with little or no treatment. On-site treatment systems like septic tanks apply simpler processes, but they require occasional maintenance to prevent clogging.
Stormwater Management
Stormwater is rainwater and meltwater collected from impervious surfaces such as roofs, streets and parking lots. That might seem simple, but water from paved areas also carries litter, any fluids that vehicles might drop, sediments, pet waste and -- in winter -- road salt. Even the heat of the water can be a pollutant. Most drainage systems simply dump this untreated water into local streams, or into retention ponds. Some sewer systems combine it with sanitary sewage, which can cause combined sewer overflows.

Water Conservation Opportunities
As water becomes an increasingly valuable and expensive resource, opportunities for saving and reusing it become increasingly attractive. Industries find ways to recover the water they use rather than paying to dispose of it and then paying again to get more water. Cities in drought-stressed areas are exploring "toilet to tap" systems out of necessity. To some it sounds disgusting, but treatment methods make it practicable.
Green Infrastructure Captures Stormwater
How about conserving water before it enters any disposal route, thus changing it from a disposal problem to a resource? "Green design" seeks to capture rainwater and use it in gardens or hold it for other uses. Rain gardens can capture hot runoff and clean it of pollutants before releasing it. Even a household rain barrel can catch roof runoff for use instead of sending it into an overloaded storm sewer system.