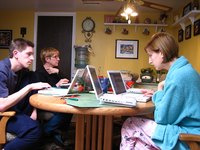 With the world becoming more and more electronic, some may wonder if any of these new technologies pose any dangers, especially radiation from something we use every day, such as a laptop. Although laptops do emit radiation, the chances of becoming ill from laptop radiation emissions remain small. However, there are some concerns with the heat generated from laptops.
Significance
The New York Times reports that 54 percent of Americans aged 18 to 30 own at least one laptop. However, few studies have been done on the effects of laptop radiation. This causes concern amongst many laptop users because we often spend hours with our laptops in physical contact with our body. Even if you do not have a laptop, wireless Internet, also known as "Wi-Fi," can still emit radiation into the air, according to a BBC report.
Considerations
It is important to note that although the effects of laptop radiation have no definitive scientific consensus, the type of radiation emitted from radio waves, televisions and laptop screens is considered low energy, non-ionizing radiation. Non-ionizing radiation generally does not have the energy to break chemical bonds and cause health problems associated with ionizing radiation from nuclear sources, according to the Environmental Protection Agency.
Misconceptions
Laptop screens do not pose any danger to the eyes, claims the Health Physics Society. The common issue of "eye fatigue" usually comes from the set-up from your computer. A brightness setting too high, sitting too close to the monitor and monitor height are common sources of eye fatigue. In addition, the Food and Drug Administration regulates radiation emission standards from laptops.
Warning
The only possible danger from the effects of laptop radiation is "thermal radiation," also known as heat. Anything that has warmth, such as the human body, will emit thermal radiation, according to the University of New Mexico. Thermal radiation is not like the type of dangerous radiation associated with nuclear material. When placed on the genitals, however, heat from laptops may cause infertility in men and women, but sperm are more prone to heat damage than ovaries, according to BabyCenter.
Prevention/Solution
The easiest way to prevent possible reproductive damage from laptop thermal radiation is to simply put your laptop on your thighs, or use it at a desk. If you are pregnant, place the laptop anywhere except your abdomen, according to the Health Physics Society. When buying a laptop, make sure to look for the U.S. Department of Health and Human Services label confirming that it has been tested for safe levels of radiation.