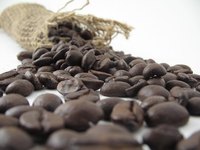 Caffeine has a well-documented affect on leg pain. It can help athletes recover more quickly, even from high-intensity exercise, and it can help numb muscle pain during workouts. However, caffeine can have negative side effects. For people who suffer from restless leg syndrome, caffeine should be avoided or restricted.
Leg pain in women
A University of Illinois at Urbana-Champaign study tested college-aged women who ordinarily consumed low doses of caffeine. The women were given one or two doses (5 to 10 mg) of caffeine 30 minutes prior to moderate-intensity cycling. The results showed that the subjects' perceived leg muscle pain was significantly reduced.
Leg pain in men
Similar findings were reported in the International Journal of Sport Nutrition and Exercise Metabolism. In this study, men who consumed high levels of caffeine were given moderate doses and then subjected to high-intensity exercise. Researchers documented a moderate reduction in leg muscle pain during this exercise.
Another University of Illinois at Urbana-Champaign study focused on college-age men. It concluded that regardless of high, low or moderate caffeine consumption on a regular basis, caffeine moderately but significantly reduced muscle pain in the quadriceps during 30 minutes of very intense exercise. This finding is significant to counter assumptions that a tolerance can be developed to the drug, muting its benefits to high dosage users.
Caffeine and cramps
Caffeine is a diuretic. It takes the water out of our cells and causes increased urination. One side effect of dehydration is muscle cramps. Additionally, in large quantities, caffeine saps the body of calcium and potassium. This cycle causes both sore muscles and delayed recovery time after workouts. Although it is a proven performance enhancer, consuming too caffeine is not advised. If you're consuming caffeine, make sure to balance it with water and the minerals it compromises.
Restless leg syndrome and caffeine
Restless leg syndrome is a common cause of pain in the legs. The pain is typically experienced at rest, with symptoms becoming worse in the evening and at night. The National Institutes of Health recommends restricting caffeine intake, as well as tobacco and alcohol, for people with this condition.
Caffeine vs. aspirin
Research suggests that caffeine is more effective at reducing sore muscle pain than aspirin. University of Georgia researchers found that aspirin failed to reduce muscle pain produced by vigorous exercise.