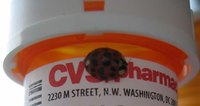 Dicylomine is the generic name for a prescription medicine. Its brand name is Bentyl. It is commonly used to treat various intestinal problems, such as irritable bowel syndrome (IBS). People generally turn to Dicyclomine after other medicines and changes have been unsuccessful (such as managing anxiety and changing the diet).
Identification
Dicylocmine is classified as being both an antispasmodic and an anticholinergic. It can be used by both adults and children, although it should not be used in children below the age of six months. The medication functions by lessening cramping of the intestinal area. It was approved by the United States Food and Drug Administration (FDA) for use in 1950. It comes in various different forms, including tablets, capsules and syrup. It also can be administered via injection.
Function
Dicyclomine is an anticholinergic drug. This type of drug operates by obstructing acetylcholine's various effects. Acetylcholine is a chemical transmitter that the nerves emit to bring upon contraction of the muscles. Dicyclomine stops muscle contraction by obstructing the acetylcholine receptors of the cells of the muscles. Dicyclomine is also capable of relaxing the muscles and decreasing muscle contraction within the intestines.
Dose
Dicyclomine is generally intended to be used several times a day, commonly four times a day. Each dose is usually 20 mg. In some situations, the dosage amount can be raised to 40 mg. (also taken four times in one day).
Side Effects
Using Dicyclomine can lead to various side effects. Some side effects of this medication include having problems with urination, heart palpitations, raised heart rate, constipation, blurry vision, dry mouth, agitation and confusion. In some cases, convulsions are also possible. Other less common Dicyclomine side effects are taste changes, throwing up, nausea, skin rash, trouble breathing, bloating, drowsiness, weakness, nervousness, headache, having a hard time swallowing, flushing, dizziness, impotence and having trouble falling asleep.
Caution
Before starting Dicyclomine, it is vital to be cautious and inform your doctor of your entire medical history, particularly of any kidney or liver issues, ulcerative colitis, heart disease (such as heart attack in the past, angina, heart rhythm issues, chronic heart failure), hypertension, enlarged prostate, hyperthyroidism, hiatal hernia (accompanied by heartburn), alcohol or drug addiction, nerve issues that result in the intestines becoming slower, sleep apnea or heatstroke.