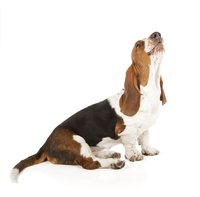 Clomicalm is a tricyclic antidepressant that can bring upon possible side effects such as confusion and throwing up in dogs. The medication is used to manage canine behavioral issues. If your dog suffers from separation anxiety or repetitive obsessive compulsive actions such as tail chasing, a veterinarian might prescribe Clomicalm.
Clomicalm Background
Clomicalm functions by influencing brain chemicals, called serotonin, that are out of balance. When this imbalance occurs, it can often trigger behavioral troubles. Dogs who experience separation anxiety when their owners aren't around frequently exhibit problematic behavioral patterns including house soiling, inordinate barking, digging, chewing, pacing and whining.
Clomicalm is given to dogs orally, in tablet and capsule form. Prescriptions are necessary for Clomicalm use in pets. This medication is commonly used to treat behavioral problems in felines, as well.
Possible Side Effects
Clomicalm use can cause side effects in some canines. Some potential side effects of this drug are diarrhea, vomiting, constipation, depression, slight agitation, panting, drowsiness, lack of energy, increased liver enzymes, confusion, intense thirst, rapid heart rate, reduced appetite, heightened appetite, weight gain, trouble urinating, dry eyes, dry mouth and feebleness. If you notice any of these possible side effects in your pet, notify your veterinarian as soon as possible.
Allergic Reactions or Overdose
Some canines develop allergic reactions to Clomicalm. Indications of allergic reactions include vomiting, abrupt diarrhea, scratching, hives, swelling of the face, tongue swelling, lip swelling, seizures, shock, cold legs, problems breathing and gum paleness. Some dogs with allergic reactions to this medication can even fall into comas. If you have any reason to think your dog might be experiencing an allergic reaction to this medication, call your veterinarian immediately.
Common indications of Clomicalm overdose or poisoning in canines are heart failure, unusual heart rhythm and seizures. Since overdoses of this drug can sometimes lead to fatal consequences, urgent veterinary care is an absolute must. It is critical for owners to follow veterinarians' dosage orders.
Clomicalm and Caution
This drug isn't appropriate or safe for use in all dogs. Clomicalm isn't suitable for use in dogs with allergies or hypersensitivities to it. It also isn't suitable for use in dogs with cardiac arrhythmias, glaucoma and slow digestive tracts. Dogs with seizure disorders or liver impairments require extra prudence for safe and successful Clomicalm use. The drug, last but not least, is not appropriate for male dogs who are breeding.
Clomicalm has the potential to react poorly with various other drugs, as well. If your veterinarian discusses Clomicalm use, make sure he or she is aware of the medications your dog is taking. Clomicalm can interact with antithyroid drugs, monoamine oxidase inhibitors and cimetidine, for a few examples. Selegiline is just one example of a monoamine oxidase inhibitor that can have a bad interaction with Clomicalm.