Choosing carpet for a home or business is a daunting task for many. Simultaneously considering price, durability, color, nap, and fiber content can be overwhelming. When choosing carpet for stairs, the task becomes even more difficult as such factors as safety in the visibility of the pattern and thickness come into play.
The standard practice of last century's decorating professionals was to carpet the stairs in the same carpet chosen for the adjacent rooms; continuity of color and style were main considerations. As decorating styles became more eclectic and the preference of mixing styles, fabrics and even eras of furniture and accessories grew, options for carpeting stairs flourished.
Not only are different color carpets now being used for stairs and adjoining rooms, patterned carpets and runners are commonly mixed and matched. Oriental runners are popular because they blend nicely with solid colors in bordering rooms, are easy to install and have good durability. Complementary patterns are also available in regular carpets in the same or compatible naps and styles.
Stockbyte/Stockbyte/Getty Images
If carpet is to be used in an area frequented by elderly people or others with visual impairments, carpet with large modular or floral patterns is generally discouraged because it can cause dizziness and confusion as to where steps begin and end. This rule applies not only to regular staircases but also to one or two steps in between rooms or levels of a home or public building. General disorientation as well as trips and falls may occur.
Be sure to obtain a sample of patterned carpet for a trial placement where it will be used. Colors and patterns that look great in the store may not be appealing when the size of the space, colors of the trim and staircase, and colors, finishes and materials of the furniture, art and accessories in the neighboring room are factored into the equation. Also, remember that you may change your other décor before you would replace the carpet, so the unique pattern that seems so perfect now may be the designer's enemy in just a few years. You should also consider whether the banister style (thin, wooden, metal, simple, or baroque) complements the carpet on the stairs.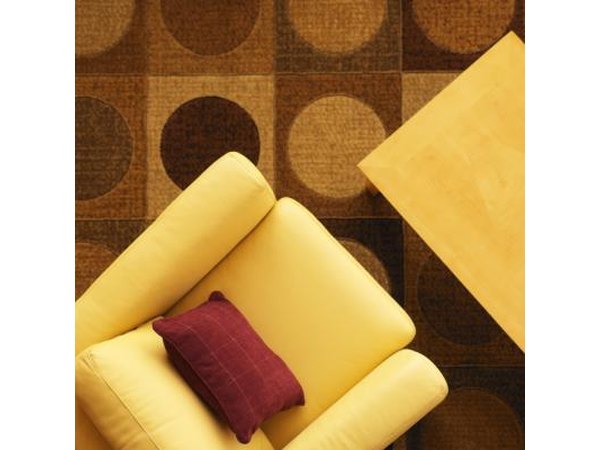 George Doyle/Stockbyte/Getty Images
Another mistake many homeowners make is to choose carpeting in a white or other light color. A light-colored choice can add light and an illusion of spaciousness, but this option is rarely recommended unless it is going to be installed on staircase that is almost never used. Although the carpeting on stairs is not as vulnerable to spills as carpeting in a dining or living room, the effect of simple foot traffic dirt is quickly visible and perpetual.
Digital Vision./Digital Vision/Getty Images
Place the actual carpet sample on one of the stairs to be carpeted. Carefully scrutinize the pattern to see if it works on the surface of the stair as well as in the rise. The size of the stair and rise should be to scale with these dimensions or it will look disproportionate, just as an upholstery pattern for real furniture looks out of place on a dollhouse sofa.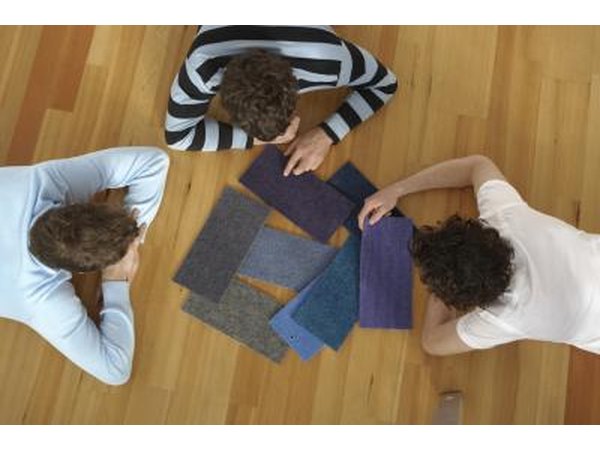 Stefanie White/Photodisc/Getty Images
Runners are easier to use now that they have finished edges and simple installation. A clear-cut chart at the carpet store defines how long the runner needs to be based on the number of stairs, size of the risers and width of the stairs. Most runners fall in the 27- to 32-inch wide range and leave six inches of exposed stair on either side. If the homeowner wants to conceal the stairs, runners are not recommended.
Completely covering the stairs is the alternative. This option is much more labor-intensive and costly. The carpet has to be bound, or a professional installer can wrap the cut edges around the edges of the stairs to create a neat, tailored finish. Attaining the desired effect is best achieved through choosing a low-pile carpet; high pile creates a bulky image that detracts from the architectural flow of the staircase.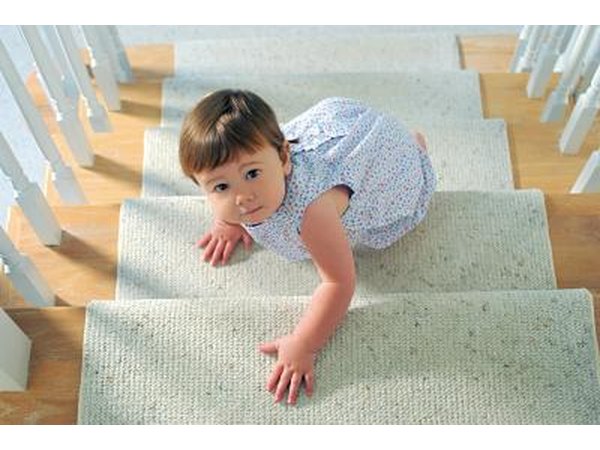 Thinkstock/Comstock/Getty Images
High-traffic areas like stairs are best carpeted with tightly looped, medium-color carpeting because it stands up well to repeated use and is resilient to footprints and ground-in soil. As with carpet in rooms, quality padding is vital for long carpet life and an attractive appearance free of stretching and distortion. Regardless of the color or pattern chosen, the carpet's durability rating is of utmost importance. For stairs, the highest durability rating is recommended. If no rating is available, ask a carpet professional for advice. Durability can also be assessed through analyzing the strength of the backing and how firmly the carpet fibers are attached to that backing.
Jupiterimages/Brand X Pictures/Getty Images
Promoted By Zergnet