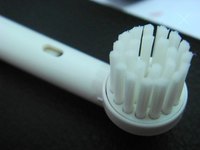 Sonicare is a line of electric toothbrushes designed to clean your teeth at home as well as you might get them cleaned at the dentist. The brushes come with several different head sizes for comfort and optimum cleaning, as well as travel cases and even warranties in case they break down. But not all Sonicare toothbrushes are the same, and it is important to know what you are looking for in your toothbrush before paying for the wrong one.
Models
The Sonicare Elite toothbrush comes in two different model styles, the 7300 or the 9500. The 7300 model comes with fewer brush size options as well as fewer programmable features. The Sonicare Flexcare is offered in much the same way, with two different model types–the R910 and the RS930. The R910 is the simpler model with only one brush size option.
Features
The Sonicare Elite offers several features specifically designed to optimize dental care. There are two available speeds for each model, as well as a timer that helps you focus on each area of your mouth so you get an all over clean. After two minutes, the Elite shuts itself down, as that is the proper brushing time recommended by dentists. The Flexcare also comes with timers to help you focus on the important areas of your mouth, as well as three different modes–clean, sensitive and massage.
Accessories
When you purchase either Elite model you will get the toothbrush handle, one or two brush heads, a charger base, a travel case and a brush holder. The travel case that comes with the 7300 model is smaller and more compact than that found with the 9500 model. The Flexcare models come with the handle, one or two brushes, a charger base, a luxury travel case and travel caps for your brushes. You can also use the charger base as a cord wrap and to store extra brushes. And the Flexcare model RS930 also comes with a UV Sanitizer option to kill bacteria in your mouth.
Noise
Most electric toothbrushes will make some noise while they are running. Many also vibrate at the same time, which some users find uncomfortable. The Sonicare Flexcare brush was built with noise cancellation so that not only does it tend to be quieter than the Elite, but also vibrates quite a bit less.
Price
The Sonicare Elite brush system ranges from $99 to $120, depending on the model you purchase. You can also buy extra brush heads for about $25 per pack of two. The Flexcare has more options and is fancier than the Elite, and starts at around $170.