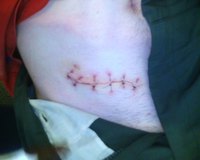 As wounds heal, scars form, whether they are small and hardly noticeable, or disfiguring. There are a number of products and treatments designed to reduce the appearance of scars, from topical creams to surgical procedures. Silicone treatment is an effective solution for scar reduction. Silicone sheets and gels are available over-the-counter for home-use, and are also used frequently by physicians, either in isolation or in conjunction with other scar reduction treatments.
The Scar Condition
Scars are caused by either an overabundance of collagen, the skin's natural supportive protein, or a lack of collagen, as the wound heals. The size, color, and texture of scars depends on this outcome, which can be influenced by a number of variables, such as the care given to the healing wound, the severity of the wound, and the patient's overall diet and health, since vitamins play an important role in the skin. In most cases, scars cause a skin irregularity of both color and texture. Keloid and hypertrophic scarring occurs with an overabundance of collagen, which causes large, raised, deep-tinted scars that are difficult to rid.
Functions of Scar Reduction Treatment
To reduce the appearance of scars, the treatment must function in two ways. First, it must smooth out the skin's texture, whether the scar be raised (common) or indented. The scar treatment should aim to flatten the scar tissue. Second, the scar treatment must function to correct discoloration. Scars are either of pink, red, or purple discoloration, or they demonstrate hypopigmentation, in which the scar appears white or almost white against the natural skin pigmentation. This means that new, healthy cells must replace the old cells, which happens gradually with treatment. As this occurs, not only does the scar fade, but it also seems to get smaller.
Silicone Treatment
Silicone gel or silicone sheets are commonly used to reduce scars, and may be obtained either over-the-counter, by prescription, or directly from a physician. This type of scar treatment keeps the wound hydrated and encourages healthy cell turn-over. Silicone gel is applied for 12 hours per day, while silicone sheets are used daily by applying pressure to the sheet over the wounded area. Silicone is used to treat abnormal and severe scars, such as hypertrophic scars and keloids.
Effectiveness
According to Dr. Bradon J Wilhelmi's December 2008 report, "Wound Healing, Widened and Hypertrophic Scars: Treatment," published on eMedicine.com, silicone gel is highly effective for reducing scar volume and visibility when used consistently over time. Dr. Wilhelmi reports that silicone treatment studies have shown an 80 to 100 percent improvement in hypertrophic scars. Also, NutraLegacy.com's February 2009 report on scar treatment, "All You Needs to Know about Hypertrophic Scar Treatment," says that while silicone treatment works most effectively on new scars, it is used effectively for treating old scars, as well.
The University of Wisconsin Hospitals and Clinics Authority advises that silicone products must be used daily for a minimum of two months in order to show visible results.
Benefits
Not only is silicone gel effective at reducing scar formation, but it is often the preferred method of scar reduction because of its ease of application and non-invasive nature. Many patients prefer this topical treatment over steroid injections and invasive surgery, which are also more costly and have more risk and complications. Also, it is easy for patients to allow the silicone gel to work at night, during their sleep. With silicone scar treatments now sold over-the-counter, this type of treatment is easily accessible to patients.
Side Effects
Side effects of silicone treatment are minimal but may include allergic reactions and rashes that worsen the skin condition, according to Dr. Wilhelmi's report. Difficult adherance to the wound for both gel and sheet silicone treatments is another reason for some patients to discontinue use, and many people find silicone treatment to inconvenient and gradual to treat facial scars.
Prevention
To minimize scarring, the wound area must be kept clean and hydrated. Aloe vera gel is an effective anti-fungal, anti-bacterial natural treatment that contains a number of other properties and nutrients that will minimize scarring with daily topical application. Other anti-bacterial creams and ointments should also be used to ensure the area is not infection-prone and can endure an "uninterrupted" healing process. Also, sun exposure should be avoided at all costs, since ultraviolet (UV) rays can inhibit proper wound-healing, and ultimately worsen scar formation.