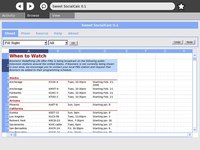 Peachtree accounting software is designed for accounting professionals, but can be used in individual small business operations. Because Peachtree logic incorporates accounting controls, it is not easily changed if an error is made. Peachtree runs on a 24-month cycle, and each month can be "closed" when all data for the month is entered.
Peachtree payroll requires an upfront setup of an employee master record. This record is used as each employee is recorded. The employee deduction fields need to remain in order, or payroll will be misstated. If a new deduction is added, first add it in the next blank deduction field on the employee master, then add it individually to the employee records
The reporting in Peachtree is less friendly than QuickBooks, but there are more form and report design functions. In general, Peachtree is software that is best used by people who have an understanding of the accounting function.
Several Types of Tutorials to Learn the Software
These tutorials are not free, but can be a great benefit to the Peachtree user.
Anytime Learning is available for a one-year subscription. Anytime Learning provides individual tutorials on demand.
Realtime Learning is an offering of online classes that users attend at a specific time, during which a specific topic is covered.
Self-Study Guides are available for Basic, Advanced, Forms and Financials, and Crystal Reports Design. Users can purchase these one at a time, and study at their own pace.
The Accounting Tutorial is designed for non-accountants. It covers basic and advanced accounting terms and principals.
Peachtree Software Help
When using Peachtree, the software does provide an extensive help feature. The user can look up a procedure, such as applying customer payments. The Help menu will give step by step instructions on how this is done.
User Group for Peachtree
The Peachtreeuser.com group is an open forum where users can ask questions and get knowledgeable responses from other Peachtree users. This is helpful for setup, error correction, general accounting questions and how to handle unusual situations.
Peachtree for Dummies
The book Peachtree for Dummies by Elaine J. Marmel and Diane Koers is a helpful tool. This book is easy to understand, and is a complement to the Peachtree Users Guide that comes with the software.
Learning Peachtree
A good way to learn Peachtree is to use Peachtree. As you use the software, the Peachtree for Dummies book and the Peachtree Users Guide lead you through the individual functions, such as creating a customer invoice, entering a vendor bill and reconciling inventory.