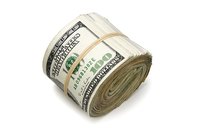 Anytime interest rates are low and economic times are good, the interest in home equity loans seems to increase. The costs for such a home equity loan depend on a number of different factors. Closing costs are charges associated with the paperwork that goes along with the loan. Other fees, such as an initial application fee, may also be charged. In addition, the interest rate is also a major factor in determining the average cost for a home equity loan.
Function
The costs associated with a home equity loan are where banks make their money off these credit lines. Without these fees, there would be very little incentive for a bank to make the loan, as this is where the profit comes from. In many cases, the bank has little control over the interest rate. It is based on the rates set by the Federal Reserve. The bank often has more control over fees, which are often overlooked in the overall costs.
Closing Costs
A number of services are often included in the closing costs, such as an appraisal, document preparation, attorney review and title search. These services are often necessary when loaning money against any property, simply because the lender needs to know what the value is and what liens, if any, are on the property. The average costs of these fees for a home equity loan typically run 2 to 5 percent of the loan's value.
Other Fees
The loan may also have some other fees associated with it as well. Some institutions may charge an initial application fee. Others may have annual maintenance fees or fees associated with early payoff. These fees vary widely by institution, and it is difficult to say what the average fee may be. These fees can add significantly to the cost of the loan.
Interest
The interest rate is the main fee that must be paid on any home equity loan. Though the average rate varies, as mentioned earlier, depending on the prime rate set by the Federal Reserve, rates typically average between 3 and 7 percent, according to historical data from the Federal Reserve. In some cases, however, that rate has gone higher than 15 percent.
Effects
The interest rate can have a great effect on the cost of any loan. For example, a $20,000 loan with an interest rate of 7 percent will require a monthly payment of approximately $232 and include total interest fees of $7,865 over 10 years. If the interest rate is only 3 percent, monthly payments drop to approximately $193, with total interest charges of less than $3,200 over that same period of time. A loan calculator can provide you with other scenarios (see Resources below).