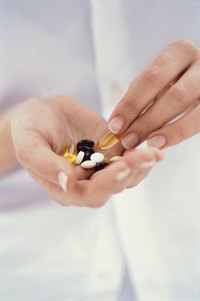 Juvenon is marketed as a supplement that will help improve your cellular heath and provide anti-aging benefits, and there is some preliminary research that the active ingredients may be helpful for these purposes. The main ingredients of Juvenon include alpha-lipoic acid, acetyl-L-carnitine and biotin. Check with your doctor before taking Juvenon, as it may not be safe for everyone.
Alpha-Lipoic Acid for Antioxidant Activity
Antioxidants, such as alpha-lipoic acid, help keep waste products called free radicals from damaging your cells. Alpha-lipoic acid may be more beneficial than some other antioxidants because it may help regenerate other antioxidants, according to the University of Maryland Medical Center. It can pass through the blood-brain barrier, so it is being investigated as a treatment for dementia and stroke. It also has potential benefits for reducing inflammation and controlling high blood pressure and vascular disease, although research is still preliminary and inconclusive.Your body makes alpha-lipoic acid, and you also get some from foods, including red meat and yeast. An article published in Neurochemical Research in January 2008 notes that alpha-lipoic acid improves age-related memory declines, especially if it is paired with other supplements, such as the acetyl-L-carnitine also found in Juvenon supplements.
Acetyl-L-Carnitine for Brain Function
Acetyl-L-carnitine is included in Juvenon supplements due to its potential brain function benefits. Preliminary research suggests it may be helpful for limiting potential problems with memory and energy metabolism that occur as people age, according to the Linus Pauling Institute. The Institute notes that healthy people make plenty of carnitine and that it is better absorbed from foods, such as red meat, dairy products, fish and poultry, than from supplements. The combination of alpha-lipoic acid and acetyl-L-carnitine supplements may help limit damage to your brain from conditions like Alzheimer's disease, according to an article published in Free Radical Biology and Medicine in February 2008.
Biotin for Energy
Deficiencies of the B vitamin biotin are rare, according to the University of Maryland Medical Center. This vitamin helps with metabolism, nervous system function and embryonic growth. You can get small amounts from many foods, including nuts, beans, eggs, bananas, sardines, whole grains and mushrooms. Biotin is included in Juvenon because alpha-lipoic acid may compete with biotin for absorption, and the manufacturer wants to limit any potential for a deficiency.
Potential Considerations
Potential side effects from taking Juvenon include difficulty falling asleep, headache, allergic reaction, restlessness and gastrointestinal effects, such as abdominal cramps, upset stomach, nausea and vomiting. Juvenon may not be a good idea for those with seizure or digestive system disorders, pregnant women, diabetics and people undergoing chemotherapy. The alpha-lipoic acid in Juvenon may lower your thyroid hormone levels.