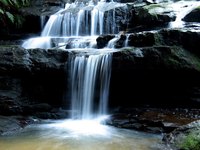 Most people go through life not knowing how much water to drink each day, and some dislike drinking water and prefer quenching their thirst with other liquids. But water is the most important thing in life next to air, as humans are made up mostly of water—75 percent of our weight, in fact. Consequently it's necessary for your health and life to drink enough water each day to clean out toxins and carry nutrients throughout your body.
Expert Insight
Internationally renowned researcher and author Fereydoon Batmanghelidj, M.D., says that in order to properly cleanse and hydrate your body you should never wait until you get thirsty to drink water. Instead, he suggests you drink about four quarts of water throughout the day every day. "When we drink enough water so that the urine is colorless, that is a good sign," he says. "When the urine becomes yellow, it means that the body is beginning to become dehydrated, and when it becomes orange, then the body is truly dehydrated and some part of the body is suffering from that dehydration."
Benefits
For your water intake, the International Sports Medicine Institute suggests you drink half your weight in ounces of water each day if you're not active. So if you weigh 150 pounds, drink 75 ounces of water daily. If you are athletic, drink more—up to two-thirds of your weight in ounces of water daily, which is 100 ounces of water if you weigh 150 pounds.
Types
Integrative medicine expert Andrew Weil, M.D., drinks distilled water. He says it's safe to drink, and even though you can buy bottled distilled water he recommends researching and investing in a home distiller or a home water purifying system. Distilled water is pure, and even though the minerals are removed, "We get our minerals from food, not water," Weil says. "As far as acidity goes, distilled water is close to a neutral pH and has no effect on the body's acid/base balance."
Misconceptions
Some people believe that if you're bloated, drinking water will make you retain even more liquid. In reality, if you're bloated it means you must drink more water, not less, because if you aren't getting enough water you won't be able to clean out your system—and your body will hold onto every drop it can and store it throughout your body. Another misconception is that you can get your water from other fluids. "But nothing substitutes for water—not a thing," Batmanghelidj says. "No drink—no coffee, no tea, no alcoholic beverages. Not even fruit juices. Each one of them has its own agenda."
Tips and Warnings
Although increasing your daily water intake is important, you can overdo it and drink too much. Michael Roizen, M.D., chief wellness officer at the Wellness Institute at Cleveland Clinic in Cleveland, Ohio, says if you drink more than four glasses of water per hour you'll dilute your body salts because you can't excrete more than that. This means you could get sick from water intoxication, resulting in low blood sodium and kidney failure. Alternately, if you don't drink enough water your kidneys won't be able to remove the wastes and toxins and you might develop kidney stones.