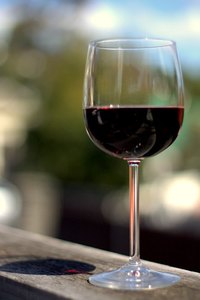 Paxil is an antidepressant that is used to treat conditions like obsessive-compulsive disorder (OCD), anxiety, post-traumatic stress disorder and depression. Paxil, or paroxetine, is also used to alleviate headaches. But like many drugs, it sometimes causes unpleasant side effects. The side effects can be worse if the patient uses alcohol while taking it.
What It Does
Paxil is a selective serotonin reuptake inhibitor (SSRI). Medical professionals think some anxiety disorders like OCD are caused when brain cells do not produce enough serotonin. Paxil replaces the serotonin the brain is missing. The increased serotonin enhances neurotransmission (the sending of nerve impulses) and improves the mood of the user. In some cases, Paxil is prescribed along with therapy to reduce the symptoms of OCD, depression or other conditions.
How to Take It
Don't deviate from your doctor's directions when taking Paxil, the Mayo Clinic advises. It can be taken on a full or empty stomach. If you are taking Paxil in liquid form, be sure to shake the bottle first. Those taking it in pill form should swallow it whole and not break, crush or chew the pill. It may take several weeks to feel the benefits of Paxil.
Side Effects
According to the Cleveland Clinic, Paxil side effects include nausea, decreased appetite and a five- to 10-pound weight change. Some patients also experience sexual dysfunction and drowsiness with Paxil. Use caution in taking it if you have a history of seizures, kidney disease or suicidal tendencies. The side effects may go away or become less severe as the patient gets used to taking the drug. Talk to your doctor about the side effects before taking Paxil.
Paxil and Alcohol
Alcohol can worsen the side effects associated with Paxil. Therefore, it's best to avoid alcohol when taking it. Don't drive, operate machinery or perform any other potentially dangerous activity if you do mix alcohol with Paxil. Doing so can result in extreme drowsiness, which could make it difficult to function in a safe manner. Also, alcohol could make those taking Paxil for depression feel worse, since alcohol is a depressant.
Discontinuing Paxil
Do not suddenly stop taking Paxil on your own. Your doctor may want you to gradually reduce the dosage before quitting. Gradually quitting can reduce some of the uncomfortable withdrawal symptoms some patients experience. Those symptoms can include agitation, breathing problems, chest pain, confusion, vomiting, diarrhea, dizziness, trembling or shaking, runny nose, sleeping difficulties, unusual tiredness or weakness, fast heartbeat, headache, increased sweating, muscle pain, nausea, restlessness or vision changes.