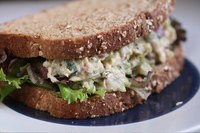 Methylmercury is a form of inorganic mercury capable of causing severe damage to various organ systems. While all fish contain traces of methylmercury, large fish such as tuna, swordfish and shark contain higher concentrations due to their predatory nature and larger size. Mercury poisoning caused by excessive tuna consumption can cause severe and lasting physical, psychological and neurological symptoms and may even be fatal in some cases.
Gastrointestinal Symptoms
Because it must bypass the gastrointestinal tract, the methylmercury in tuna and other fish usually causes severe GI symptoms, though they can take days or weeks to appear.
Mercury ingestion can cause a plethora of unpleasant stomach and intestinal symptoms, with nausea and vomiting being the most common. Other possible effects of methylmercury on the GI system include severe cramping, diarrhea, intestinal bleeding and a metallic taste in the mouth.
Neurological Symptoms
Methylmercury is a potent neurotoxin with deleterious effects on the brain. According to the Environmental Protection Agency, the neurological symptoms of mercury poisoning include vision loss, slurred speech, tremor, loss of coordination and pins-and-needles sensations in the extremities.
For infants and children, these effects are often much more severe. Babies exposed to methylmercury in the womb through contaminated tuna may exhibit significant deficits in fine motor skills, cognition, language development and visual-spatial skills, due to the effects of mercury on the developing brain.
Psychological Symptoms
Due to mercury's direct impact on the brain, psychological symptoms are nearly always present in those who have been exposed. In fact, the term "mad as a hatter" was originally used to describe 19th century hat makers exposed to mercury during the production of felt hats.
Mercury poisoning can cause significant changes in personality and behavior. According to Mercury-Poisoning-Symptom.com, possible psychiatric symptoms include unprovoked mood swings, depression, anxiety, insomnia and increased shyness or timidity, all of which can vary in severity depending on the extent of poisoning and other factors.
Physical Signs and Symptoms
Because methylmercury is capable of interfering with biological processes ranging from immune function to DNA synthesis, the physical symptoms of mercury poisoning can be devastating.
Physical signs of mercury poisoning include a blue line on the gums, tooth and hair loss and a red, peeling rash on the hands and feet. Other signs and symptoms such as pulmonary edema, paralysis, coughing, chest pain and cardiovascular effects suh as hypertension and tachycardia may also be present in mercury-poisoned individuals.
Prevention/Solution
Monitoring your consumption of tuna and other large fish is the best way to prevent methylmercury poisoning. According to the EPA, children and pregnant or nursing women should limit their intake of white albacore tuna to six ounces per week, while avoiding consumption of swordfish, king mackerel and tilefish altogether.
The standard treatment for mercury poisoning is chelation therapy, which includes administration of substances that pull mercury and other heavy metals out of the body. Common chelating agents include DMSO, DMPS, EDTA and alpha lipoic acid. Complementary therapies, such as supplementation with essential vitamins and minerals or use of a sauna, are sometimes used in conjunction with chelation.