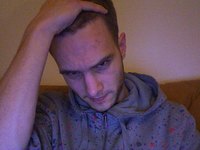 Face pain, also known as neuralgia, is characterized by pain that is sharp, severe and shooting along a nerve or group of nerves, the Mayo Clinic explains. Facial pain can be caused by a pinched nerve or other irritation to the nerve. It is important to understand what causes facial pain in order to obtain proper treatment. Facial pain also can be a sign of a serious neurological condition.
Symptoms
Facial pain can occur anywhere on the face, including inside the mouth. According to Facial Neuralgia Resources, common pain spots include the cheeks, gums, chin or lips. Additionally, the pain is usually only on one side of the head and ranges from a mild burning sensation to incapacitating surges of excruciating pain.
Causes
Face pain is caused by a pinched or irritated nerve. Common causes of irritation include infection, such as tooth decay, shingles, nasal infection, eye strain, arthritis, environmental elements, physical injury and in some cases, poor diet.
Diagnosis
Facial pain is diagnosed based on the location of the pain and the characteristics of the pain. For instance, if the pain is severe and shooting, it is likely the result of a pinched or irritated nerve. Doctors typically conclude the pain is the result of a pinched or irritated nerve after medical exams and tests exclude tumors, aneurysms, sinus infections, tooth decay and disease as the possible cause of pain.
Treatment
According to the Penn State Medical Clinic, facial pain is treated with pain medication, anti-seizure medication, antidepressants, topical pain relievers, electrical nerve stimulation (TENS), injections and in some cases, surgery. Alternative treatments include taking B-complex vitamin supplements, undergoing acupuncture and taking herbal supplements known for having anti-inflammatory effects.
Warning
Individuals who experience facial pain as a symptom of shingles should seek immediate medical treatment to prevent the development of postherpetic neuralgia, a painful condition affecting nerve fibers and the skin.