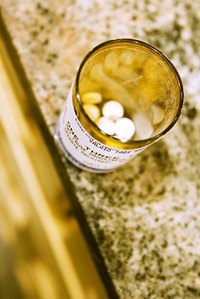 The growing pharmaceutical industry was originally dominated by smaller companies, but this trend has changed. Today, pharmaceutical firms are typically extremely large to more easily enable big expenditures for research and development. Most pharmaceutical companies' revenues come from patented blockbuster drugs, whose cost to bring to market is very high -- as a result, pharmaceutical firms use their patents to charge high prices.
Big Pharma: Rise of the Giants
The trend since the 1980s has been for consolidation among pharmaceutical companies, using a variety of means such as corporate takeovers and buyouts, and business partnerships. This has given rise to very large firms. The combined revenues of Novartis of Switzerland, Pfizer of the U.S., and Bayer in Germany are more than $150 billion. The phrase Big Pharma is often given to firms with earnings in excess of $3 billion or with research and development expenses above $500 million.
Growth Patterns in the Industry
The growth of pharmaceutical companies in the past 15 years has been generally outstanding. Up until 2009, pharmaceutical companies were thought to be recession-proof, often growing despite losses in other industries (such as the tech bubble and the dot.com bubble during the late 1990s and early 2000s). However, in 2009, IMS Health (a market analysis firm for health care) lowered its prediction of growth in pharmaceutical sales to from 2.5 percent to 3.5 percent, down from 4.5 percent to 5.5 percent, possibly indicating that growth may slow in the coming years.
Blockbuster Drugs
A blockbuster drug is defined as a drug generating more than $1 billion a year, and blockbuster drugs account for roughly one-third of the value in pharmaceutical sales. These drugs include Lipitor and Celebrex by Pfizer and Prilosec and Nexium by AstraZeneca, which combine for more than $19 billion in sales alone. Because of the immense cost of bringing a new drug to market, these firms rely on the patents for these drugs to prevent the production of generics and ensure high prices.
Patents, Generics and Blockbuster Drugs
The structure of the industry is currently designed so that pharmaceutical companies can market their products to different nations at different prices. In the U.S., unsurprisingly, people pay much higher prices for brand medication than do those in other countries. As a result, America has seen an increase in the illegal smuggling of pills from Canada to the United States. This is especially prevalent for on-brand, expensive drugs (such as Lipitor by Pfizer, which can be 40 percent cheaper in Canada).
Considerations
Pharmaceutical companies may soon evolve in a different direction, thanks to developments in stem-cell research and other biotechnology. Possibly in the future, Big Pharma will be less concerned about the patents for their blockbuster drugs and more concerned about being able to manufacture and produce individualized products for specific patients. This trend may start sooner rather than later, considering that several blockbuster drug patents (such as Nexium and Lipitor) are due to expire soon. Upon expiration, it is highly likely that generic versions from places abroad (especially India) will undermine the profitability of these blockbusters.