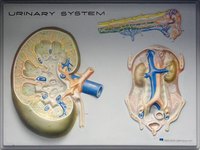 A hysterectomy is a surgical procedure where a surgeon removes a woman's uterus either through the abdomen or via the vagina. Although a hysterectomy can reduce health problems, such as fibroids, endometriosis, uterine prolapsed, cancer, vaginal bleeding or chronic pelvic problems, it is not without significant risks, including incontinence or leaking.
Statistics
According to a study by Dr. Daniel Altman, Swedish women who had a hysterectomy were twice as likely to need surgery later to decrease urine leakage. Earlier research had shown that it may only increase the risk and that a different outcome was possible.
Cause
Although the degree of incontinence varies, it is often brought on due to laughing, sneezing, coughing or exercise. These situations are called stress urinary incontinence because there is a physical cause or activity occurring, which may occur because of a weakening in pelvic floor muscles or the lack of function in the urethra muscle. Another cause is that the bladder may be overactive because of changes in the muscular system and cause leakage without any warning. The more rare cause of incontinence after a hysterectomy is that a fistula has developed during or after surgery, thereby creating a connection between the bladder and the vagina. In this case, there would be continual leakage without warning.
Prevention
Prevention for urinary leakage after a hysterectomy may begin with Kegel exercises, which involve regular exercise of the muscles in the pelvic floor. These help keep the muscles toned and are done by contracting and relaxing the pelvic floor muscles.
Diagnosis
Talk to your physician or urologist if you have problems with urinary incontinence after a hysterectomy. A variety of tests can help in the diagnosis to help determine the cause, such as a urinalysis to rule out infection and a cytoscopy to inspect the anatomy of the bladder for abnormalities. A urologic study might be ordered to determine urine flow and pressure, by measuring the amount of urine that remains after urination, and a stress test can check for urine loss when engaged in activity. If the diagnosis of incontinence after a hysterectomy is still not clear, additional tests such as an X-ray or electromyogram can provide imaging of organs, such as the kidneys, bladder and pelvic floor.
Treatment
A sling procedure may be done by a urologist to treat urinary leakage. The surgeon places a sling around the urethra, which will help lift it into its normal position and prevent leakage. The sling can be created with muscle, ligament or tendon tissue from the patient, animal or even created from synthetic materials. An inpatient hospitalization is required for a few days, and recovery can take a few weeks. It is important to avoid lifting anything heavy or engage in strenuous activity while recovering. One sling procedure created by Mayo Clinic surgeons allows for the adjustment of the sling after the procedure, which can increase the success of the surgery.