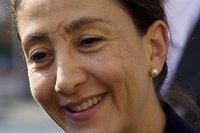 Laser light therapy is used to treat wrinkles, firm skin and reduce acne. Red, amber and blue/infrared light delivers light therapy to improve skin and increase collagen development. At-home laser light therapy is relatively new. It has been used in medical spas and doctor's offices for years.
Significance
Before the development of in-home laser light therapy devices, the only way to undergo treatment was to visit a doctor or a medical spa. Professional treatments can cost as much as $200. Home use appliances allow users to pay for it once and use it when needed. In-home units cost between $150 to $400.
Function
To smooth wrinkles, fade discolorations and tighten skin, red/amber light-emitting diodes (LED) combined with infrared LED are used. A second appliance is available that optimizes blue LED with the infrared LED to clear acne and reduce inflammation. There are also combination products that are address both issues.
Types
In-home use laser light therapy devices are available as handheld devices and tabletop models. The handheld devices generally covers an area about the size of a quarter and look similar to a flashlight. It must be moved in a pattern to make sure all areas of the face are exposed to the LEDs. The tabletop models allow the user to sit in front of the device, similar to looking into a mirror.
Warning
LED, whether done by a physician or done at home is not going to give the result of other treatments such as laser resurfacing or facial peels. The results are subtle and to maintain the result you must be diligent in repeating the treatment as instructed. Finally, The Good Housekeeping Institute concluded that the results were too subtle to justify the high cost of home LED appliances. "While you may get some skin benefits from LED devices, they're expensive and they're time consuming and you'll probably get just as good results from a much less expensive face cream," said Leesa Suzman, Good Housekeeping's Beauty Director.