Your body needs vitamin B-6 to support immune function, to aid in the synthesis of neurotransmitters and to control the blood's level of homocysteine, an amino acid that, in high concentrations, may be linked to an increased risk of heart disease. Its fellow B vitamin, vitamin B-12, is necessary for neurological health and for DNA and red blood cell production. Both take part in energy metabolism. A varied diet can ensure that you consume adequate amounts of both: 1.3 milligrams of vitamin B-6 and 2.4 micrograms of vitamin B-12 per day for healthy adults.
Enjoy Fish
Certain types of fish, including tuna, bluefish and swordfish, are good sources of both vitamins B-6 and B-12. A 3-ounce serving of skipjack tuna contains 0.83 milligram of vitamin B-6, or 64 percent of the recommended daily allowance, and 2 micrograms of vitamin B-12, supplying 83 percent of the requirement per day. Women who are pregnant or who plan to become pregnant should limit their intake of these fish since they are more likely to be contaminated with high or moderately high levels of mercury.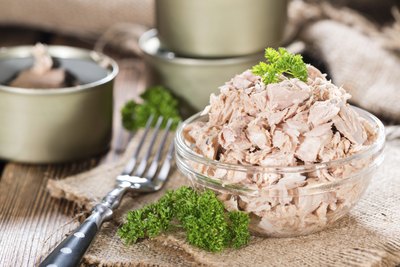 Choose Lean Meats
Lean cuts of beef and pork can help you reach your vitamin B-6 and B-12 requirements. Beef top round steak has 0.8 milligram of vitamin B-6 and approximately 2 micrograms of vitamin B-12 in every 3 ounces; 96-percent-lean ground pork contains less but still provides 44 percent of an adult's B-6 RDA and 23 percent of his B-12 needs.
Skinless poultry, particularly turkey, has less fat and cholesterol than lean meat but a comparable amount of vitamins B-6 and B-12. A fat-free ground turkey patty contains 59 percent of an adult's daily B-6 needs and 24 percent of her daily B-12 needs.
Fill Up on Fortified Cereals
Although vitamin B-6 occurs naturally in both animal- and plant-based foods, vitamin B-12 is found only in animal products. The only foods that can supply vegans and strict vegetarians with both are ones that are fortified, such as ready-to-eat breakfast cereals. Some may contain as much as 69 percent of the B-6 RDA and 88 percent of the daily B-12 recommendation in a 1 1/4-cup serving. Different brands of cereal are fortified with different amounts of both nutrients; check the nutrition label and serving size to be certain. Avoid cereals that contain more than 240 milligrams of sodium, more than 7 grams of sugar or less than 3 grams of fiber per serving.
Mix and Match Foods to Consume Plenty of Both
Eating foods that are rich in both vitamins B-6 and B-12 isn't the only way to consume enough. Plan meals to include one high-vitamin B-6 food you prefer paired with one high in vitamin B-12. For example, if your breakfast cereal is fortified with 100 percent of the RDA for vitamin B-12 but not vitamin B-6, pair it with a medium-sized banana, which contains 46 percent of your B-6 needs per day. For lunch or dinner, 3 ounces of clams or grilled salmon will supply you with the day's requirement of vitamin B-12. Serve it with a 1-cup side dish of chickpeas or cooked potato for a meal that provides least 31 percent of the B-6 you need daily.