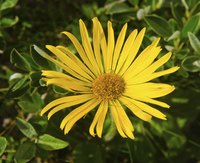 Since the 16th century, arnica (Arnica montana) has been used medicinally to help treat bruises, improve joint pain and bolster hair health. Use arnica on its own or mix it with your favorite hair product to clear up scalp problems and give you beautiful results. If you have sensitive skin, test arnica on a small area of your inner arm before applying it to your scalp, as it can irritate skin or create an allergic reaction.
Benefits of Arnica
Arnica (Arnica montana) is a perennial herb that's native to southern Europe, Scandinavia, central Asia and southern Russia. It is reputed to minimize hair loss in addition to having an invigorating effect on skin. Topical use of arnica increases circulation and helps promote healing of any wounds on the scalp while treating chapping or scaling. Since beautiful, vibrant hair starts with a healthy scalp, arnica's properties are ideal for improving the look and feel of your locks, particularly if your scalp is itchy, flaky or dry.
Using Arnica for Hair Health
Apply a few drops of arnica oil directly to your scalp or to your hands; massage it into your scalp, concentrating on any problem areas. Alternatively, apply arnica tincture, which is an alcohol-based formula, to your scalp. Use the oil as an overnight leave-in treatment before shampooing, or add the tincture to your final hair rinse. Both forms of arnica are available at natural stores and through online vendors.