Your doctor may consider a bone marrow transplant procedure as a treatment option for diseases like Hodgkin's disease, lymphoma, breast or kidney cancer. The bone marrow transplant consists of the elimination of unhealthy stem cells found in bone marrow and the infusion of healthy cells. Although a bone marrow transplant is not standard treatment, it has been used since 1968, according to the University of Maryland Medical Center.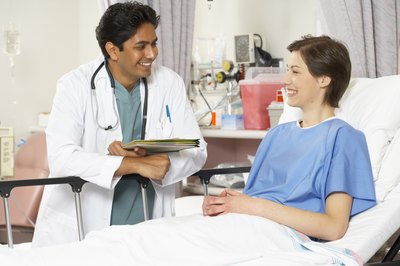 Bone Marrow
Bone marrow is fatty, soft tissue inside your bones. Bone marrow is immature stem cells that grow into three different areas of your blood: white blood cells (WBC), which help fight infections; platelets, which help your blood clot; and red blood cells (RBC), which are responsible for carrying oxygen to the tissues in your body.
Types of Transplant
With umbilical cord blood transplant, stem cells are taken from the cord after the birth of an infant. According to Medline Plus, the cells are tested, counted, typed and frozen until they are needed for a transplant. An autologous bone marrow, or rescue, transplant are cells taken from you before you have chemotherapy treatment. After the treatment, you will receive the stem cells back. The third allogeneic bone marrow transplant involves stem cells from another person. Your donor must be a match or have the same genetic typing as you so you can receive his bone marrow.
Procedure
During the procedure, a catheter, or plastic tube, is placed into a large vein in your chest. The end that is sticking through your skin will be used for two functions. The first is to take blood samples and insert the new cells. Second, any prescribed radiation and chemotherapy will be given through the catheter if you have any other conditions, such as cancer, that can affect the bone marrow cells. Such treatment can kill any cancer that remains and make more room for new cells.
Infusion
The new transplanted bone marrow cells will be infused into your bloodstream via the catheter. The new cells will travel through your bloodstream to the places where your old bone marrow used to be. The transplanted cells will multiply until they reach an amount high enough to where your bone can fight off infections and any other germs. This will take about four to six weeks.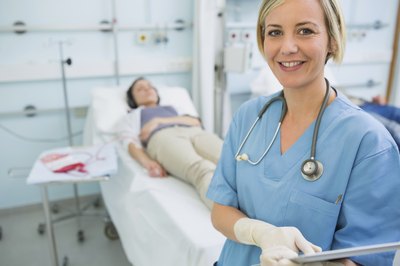 After the Procedure
After the procedure, you'll need to recuperate in an isolated hospital room protected from harmful germs. In the hospital, you may need blood transfusions and antibiotic, antiviral and antifungal medications to prevent infection. The medical staff will monitor your vital and blood signs. You will be on intravenous fluid until you can eat on your own or your nausea, mouth sores or diarrhea has disappeared.