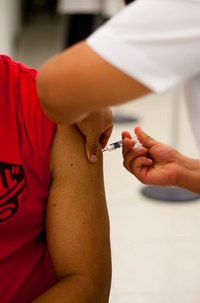 Genital herpes, a common sexually transmitted disease, affects 20 percent of Americans, according to Planned Parenthood. There is no cure for herpes although there is a vaccination for genital herpes infections, also known as "GTI", available in some European countries such as Italy and Bulgaria.
Description
Herpes is a common sexually transmitted disease that results from an infection of the herpes simplex virus. There are two types of herpes, oral herpes, which effects the mouth, and genital herpes, which effects the genitals. Herpes can also be asymptomatic, meaning an individual can have herpes without symptoms.
Symptoms
Symptoms for oral herpes include mouth sores and fever blisters that may be in or around the mouth. The most common symptom of genital herpes is a cluster of blistery sores on or near the genitals, including the buttocks and anus. However, individuals with genital herpes may also experience a burning sensation during urination, sporatic genital blisters, itching, open sores, genital pain or be unable to urinate. The first initial outbreak of herpes may also include fever, chills, headache, swollen glands, particularly in the pelvic area, throat or armpits and other flu-like symptoms. Treatment for herpes includes medication.
European Herpes Vaccination
Vaccinations for GHI have been produced in Europe since the late 1980s, particularly in Italy and Bulgaria. These vaccinations are administered to prevent transmission and to treat patients with herpes. Individuals interested in obtaining these vaccinations have to travel to European countries, such as Italy or Bulgaria to obtain the vaccination.
U.S. Herpes Vaccination
In 2002, New Jersey corporation GlaxoSmithKline Biologicals announced it had developed a genital herpes vaccination. Early clinical trials reported the vaccination prevented infection in three out of four women. As a result, GlaxoSmithKline launched an efficient trial with the National Institute of Allergy and Infectious Diseases (NIAID), a component of the U.S. National Institutes of Health (NIH), part of the Department of Health and Human Services. At the time, GlaxoSmithKline said if proven successful, the vaccination could be available within a few years. Presently, the vaccination is still undergoing clinical trials.
Effectiveness
According to Dr. H, the medical director of Herpes.org, the European vaccinations for herpes are not effective and provide little to no benefit. More specifically, Dr. H states that most research, particularly research performed in America, suggests these vaccinations are not effective in the prevention of or treatment for herpes.