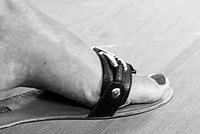 Inner foot pain is common in runners, athletes or people who work on their feet often (i.e., postal deliverers). It can be caused by numerous conditions, including aging, repetitive stress or improper shoes. There are also certain medical conditions that cause inner foot pain, such as high arches ("claw's foot"), tendinitis, arthritis, plantar fasciitis, abnormal blood vessels and tarsal tunnel syndrome. Treatment can include a combination of rest, ice, topical applications, massage and stretching exercises.
Identification
Inner foot pain often starts with a burning sensation under the ankle bone or arch of the foot. This part of the foot can also be tender to the touch and painful. The affected foot can appear swollen when compared with the other foot. Varying degrees of pain can be felt across the top of the inner foot, as well, mainly because there are so many joints in the foot.
Effects of Rest, Ice and Heat
When a person experiences foot pain, it is best to rest the foot for a few days. This prevents further aggravation of the pain.
In addition, ice is normally used within the first 48 hours after the onset of pain. Ice relieves pain by causing vasoconstriction, which controls inflammation by limiting the flow of blood and lymph fluid into the affected area. Ice is most effective against swelling and pain if it is used against the inner foot at 20-minute intervals. Elevating the foot above the heart can also reduce inflammation and control pain. Once swelling has subsided, heat can be used to promote blood flow (with its healing properties) to the area.
Types of Medications
Anti-inflammatory medications such as ibuprofen and naproxen can alleviate inflammation and pain. These medicines control pain by inhibiting Cox-2 enzymes from producing prostagladins (chemicals). This natural body process is what creates inflammation and pain after injuries or stress. Doctors may prescribe steroidal medication for more severe inner foot pain.
Other Types of Treatment
Sometimes older people or a person with higher arches needs orthotics or inserts in their shoes. These can provide more support for the joints and foot muscles by relieving strain.
Stretching exercises can also loosen up tight muscles and fascia (connective tissue) in the foot, reduce scar tissue and promote blood flow to the area. Stretches may include pulling back on the toes with an elastic band. According to Northcoastfootcare.com, specialists in foot conditions, daily stretching is the most important treatment for conditions like plantar fasciitis.
Time Frame
There is no set time frame for overcoming inner foot pain. Certain conditions will take longer to heal or correct. The best way to recover is by properly diagnosing the problem and following up with the various treatments available.