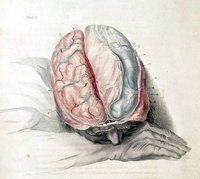 Alzheimer's disease is widely known as a debilitating disease, but many people do not realize that it can also be fatal. According to the National Institute of Health, Alzheimer's disease was first identified as the underlying cause of over 20,000 deaths in 1995; it has since been elevated to the sixth leading cause of death, especially in individuals over 65 years of age. With over 5.3 million people suffering from Alzheimer's disease in the United States alone, it is important to understand exactly how the disease can cause death in those afflicted by it.
Alzheimer's As a Fatal Disease
Though Alzheimer's disease was first identified in 1906, it was long considered to be a debilitating but nonfatal disease. It wasn't until the 1990's that Alzheimer's was viewed as the underlying cause of numerous deaths, with the degradation of the mind and body caused by the disease being what ultimately led to the deaths in question. It was officially added to the list of causes of death that were eligible to be ranked as a result of this, starting with deaths which occurred in 1994. The number of deaths attributed to Alzheimer's has continued to rise each year since, with the disease moving from the 15th leading cause of death in 1994 to the sixth in 2009.
Effects of Alzheimer's that Can Lead to Death
Though Alzheimer's does not kill directly, several of its effects can lead to death. The gradual loss of motor skills can lead to choking and other accidents. The forgetfulness and dementia associated with Alzheimer's disease can lead to sufferers putting themselves in dangerous situations or getting lost. A number of infections can arise from incontinence, the inability to get out of bed and other common symptoms of developing Alzheimer's. The damage to brain tissue can even increase the likelihood of serious brain injury.
Strokes and Other Brain Injury
One of the more common causes of death for those afflicted with Alzheimer's disease is stroke. Since the symptoms of a stroke are similar to the dementia and disability that can develop with Alzheimer's, it can be difficult to diagnose a stroke in individuals who have the disease. This can lead to multiple strokes occurring without treatment, which can in turn result in death. Even in individuals who don't suffer from strokes, brain injuries resulting from bumps or blows to the head can occur due to frequent falling.
Pneumonia and Other Infections
Difficulty chewing and swallowing properly can lead to choking, which can cause chewed food to become trapped in the airway. This can increase the likelihood of developing pneumonia, especially in elderly Alzheimer's patients. Serious bladder infections can result if bladder control becomes an issue, and staph infections can occur in bedsores that develop when Alzheimer's patients are unable to get out of bed for days at a time.
Falls and Other Accidents
As motor skill degrades, it can be harder to maintain balance. This can result in more frequent falls, and these falls can lead to concussions or broken bones. When combined with the increased likelihood of Alzheimer's patients wandering off and getting lost when unsupervised, these injuries can become life-threatening if they are not found quickly.