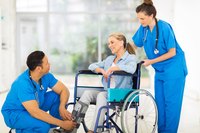 The workers' compensation insurance system allows injured employees to seek medical treatment for an on-the-job injury. Insurance purchased by the company covers doctor visits, hospitalizations, emergency transportation, prescriptions and physical therapy, without deductibles or out-of-pocket expenses. State law controls the rules for workers' comp coverage, including the availability of second opinions.
Second Opinions
If you're hurt on the job, a workers' compensation policy should cover doctor visits for treatment of the injury. The insurance carrier provides the name of an authorized doctor and pays the bill. If you're unsatisfied with the doctor's treatment, you may request a second opinion from another doctor. Your state's law, however, may not require the insurance company to cover that cost, and any private insurance you have may not pay the expenses for work-related injuries,
State Law Medical Panels
Regulations on medical options in workers' compensation cases vary by state. In Tennessee, the law requires workers' comp carries to provide a list of at least three authorized doctors from which injured workers can choose. If a carrier provides an optional expanded list of five doctors, the injured employee has a right to request a second opinion from one of the doctors on the list. In any case, the insurance company is only required to comply with the restrictions of an authorized doctor. Minnesota law allows injured workers to request a second opinion or a change of doctor if the worker finds the treatment unsatisfactory. The insurance company, on its side, may request an independent medical examination by a doctor of its choosing
Ongoing Treatment and One-Time Changes
Some states allow injured workers to select any doctor for their initial visit. Not all doctors will agree to see workers' compensation patients, however, as many physicians don't want to handle the complicated billing and claims process. State law may allow you to select a specialist such as a chiropractor or a physical therapist for a limited number of ongoing visits. In addition, you may request a change of attending physician, who provides treatment until you reach maximum medical improvement. Florida, for example, requires insurance companies to approve any request for a one-time change of physician, and to notify the worker within five days of the approval.
Second Opinion Recommendations
Workers' comp insurance companies are usually bound by their own doctors' work restrictions, as well as recommendations for treatment. If an authorized doctor takes you off work for six months, for example, the insurer may need to pay indemnity benefits for lost wages. A second-opinion doctor outside the carrier's network can also make recommendations, but the law may not require the insurance company to follow them. This can mean that you would risk a total loss of wages for taking time off on the second doctor's recommendation.