Pelvic joint pain can also be referred to as "sacroiliac joint pain," as it is generally experienced in your sacroiliac joints. There are many symptoms and four main types of pelvic joint pain. Fortunately, there are many ways to treat pelvic joint pain.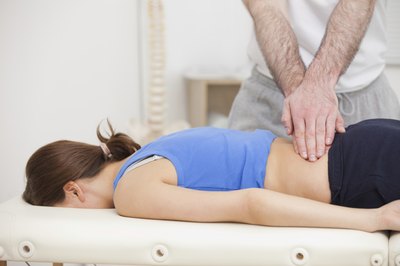 Identification
The pelvic joint is made up of three bones in your pelvic area. You have two sacroiliac joints and one symphysis pubis joint. When you feel pelvic joint pain, it is usually in your sacroiliac joints. Sacroiliac joints are at the bottom of your back, on both sides of your body. They are also called "hip bones."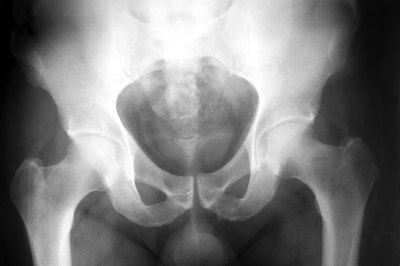 Symptoms
Pelvic joint pain causes you to feel pain in the right or left side of your lower back. The pain can vary between being a minor ache, to a sharper pain that can restrict your ability to move. Your buttocks and lower back may also hurt, as can the front of your groin area. People who have pelvic joint pain usually have trouble turning over in bed, putting on shoes and socks, and getting into and out of a car. There is also stiffness in your lower back when you stand after sitting for a long time and when you rise from bed in the morning.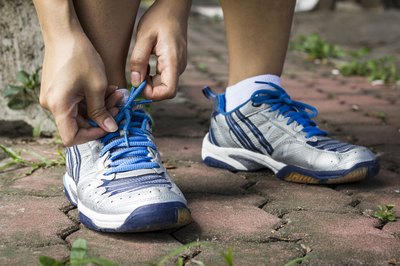 Types
There are four types of pelvic joint pain. One is traumatic pain, caused by sudden "jolts" on the joints. A common example of traumatic pain is falling and landing on your buttocks. Biomechanical pain is usually caused by low-speed car-collision injuries, muscle imbalances or chronically sitting in positions that cause your legs to be cramped. Pelvic joint pain associated with pregnancy is very common. The fourth type of pelvic joint pain is inflammatory. It causes your spine pain.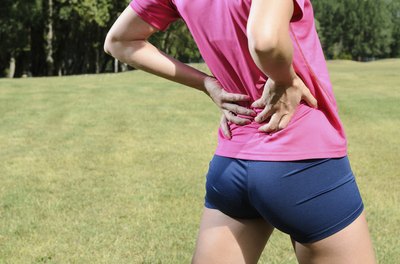 Prevention/Solution
There are many ways to alleviate pelvic joint pain. One of the best ways to do so is by resting from any activities that cause you to feel the pain. Use a heating pad or take a hot shower to help soothe your muscles. Also, learn relaxation and stress management techniques. For inflammatory pelvic joint pain, medications such as ibuprofen have an anti-inflammatory quality that can help you heal.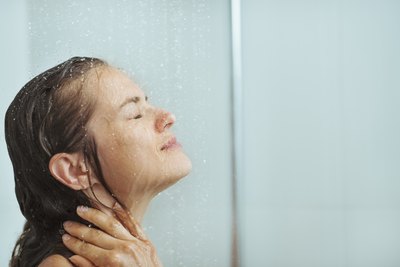 Considerations
If you experience persistent pelvic joint pain that becomes increasingly worse or lasts longer than one to three weeks, consult your doctor for medical advice. It is particularly important to consult with your doctor if you are considering taking anti-inflammatory medications. Your doctor will be able to recommend whether painkillers are appropriate and, if so, prescribe you the best possible painkillers. A doctor can also refer you to physical therapy, where you can learn specific exercises and activities that help strengthen the muscles surrounding your pelvic joints.