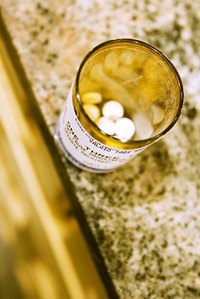 Percogesic is a prescription medication with the main ingredients of acetaminophen and phenyltoloxamine. Acetaminophen is a commonly known pain reliever, and it can also reduce low-grade fevers. Phenyltoloxamine acts as an antihistamine, which counteracts the naturally occurring histamine in your body and prevents a reaction to allergies and hay fever, such as sneezing and itchy eyes. Together, these ingredients allow Percogesic to treat various aches, pains and congestion.
Uses
The ingredients in Percogesic make it a very nonspecific medication, and it can be used to treat various ailments. The pain reliever ingredient leads the medication to provide temporary relief from muscle aches, arthritis and menstrual discomfort. The antihistamine is effective against the symptoms of congestion caused by a cold or flu, or allergic reactions. These same ingredients are also found in Tylenol PM, but that medication contains twice the amount of antihistamine—which causes drowsiness.
Warnings
MAOIs such as Marplan or Nardil can cause serious side effects when taken with Percogesic, so it's important to stop taking the MAOI medication before starting this one. Patients with liver or kidney disease, diabetes or a stenosing stomach ulcer may require an adjusted dosage or special monitoring.
Side Effects
The most common minor side effects are dizziness, constipation and dry mouth. Drowsiness and upset stomach may also occur. If these effects do not go away or get worse, call your doctor immediately. Some more serious side effects include difficulty urinating, mental or mood changes and pounding or irregular heartbeat. If you experience any of these reactions, call your doctor at once.
Dosage
The usual dosage of Percogesic for patients 12 and older is 2 caplets every 6 hours. Do not drink alcohol while you are on Percogesic, as it combined with the acetaminophen could cause liver damage. If you miss a dose, take it as soon as you remember or at the time of your next dose. Do not take more than one normal dose of this medication at a time. Taking more than prescribed dosing could lead to an overdose, featuring such symptoms as nausea, diarrhea and seizures. Seek medical attention immediately in the case of a suspected overdose.
Precautions
Since one of the primary ingredients in this medication can cause dizziness or drowsiness—phenyltoloxamine—use care when operating machinery, driving or performing other potentially hazardous activities. Alcohol should be avoided when taking Percogesic, as it can increase the drowsiness effect and may cause liver damage when combined with the drug. Drowsiness may also be increased when taking Percogesic in addition to other antihistamines, antidepressants and muscle relaxants.