Healthy adult men and women need approximately 1.3 milligrams of vitamin B-6 and 2.4 micrograms of vitamin B-12 each day. A varied diet that includes plenty of lean meat, poultry, seafood, dairy products, whole grains, beans, legumes and produce can help ensure you get enough. Like all other B vitamins, vitamins B-6 and B-12 are required to break down fats, carbohydrates and protein for energy and to support the health of many of your organ systems. Some scientific research indicates that a high intake of both may help treat or prevent certain medical disorders, but more research is needed. Do not take dietary supplements containing either nutrient until you've consulted your doctor.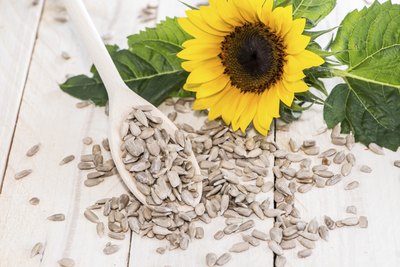 May Lower Heart Disease Risk
Vitamins B-6 and B-12, along with folate, another B vitamin, regulate your body's level of the amino acid homocysteine. They do this by changing homocysteine into other compounds. People who are deficient in vitamins B-6 and B-12 have higher homocysteine levels and a greater risk of developing heart disease, reported a 2007 review article published in "Diabetes and Vascular Disease Research." However, it's not yet known if elevated homocysteine contributes directly to heart disease or if it is simply a result of the condition. Increasing your overall intake of vitamins B-6 and B-12 will help keep your homocysteine concentration low, but it's unclear if this is an effective method for avoiding future heart disease.
Supports Neurological Health
Vitamin B-6 is necessary for proper brain development and for the synthesis of neurotransmitters that allow neurons, or nerve cells, to transmit electrochemical signals. It's needed for the production of serotonin, a hormone that plays a role in moderating the parts of the brain that regulate mood. Vitamin B-12 is also required to maintain neuron health. Supplementing with both nutrients may help alleviate mood disorders such as depression. Taken together, the two may aid in the prevention of age-related cognitive decline in people who are deficient in the vitamins, according to an "American Journal of Clinical Nutrition" study published in 2008.
Treats and Prevents Anemia
Inadequate vitamin B-6 or B-12 can cause anemia, a condition in which your body has too few functioning red blood cells. That's because both vitamins are required for the production of hemoglobin, the part of red blood cells responsible for binding to and carrying oxygen. Anemia caused by a deficiency in vitamins B-6 or B-12 can lead to fatigue, weight loss, diarrhea, a tingling or numb sensation in the hands and feet, muscle weakness and loss of coordination. A diet high in both vitamins can prevent anemia in most people, but some health conditions, medications and lifestyle choices, including veganism or strict vegetarianism, can increase your risk of such a deficiency and may require supplementation to correct. Don't attempt to use vitamins B-6 and B-12 to self-treat anemia without your doctor's supervision.
Might Promote Vision
Age-related macular degeneration, the most common cause of vision loss in people over 50 years old, occurs when the macula, a part of the eye's retina, deteriorates over time. In a study published in 2009 in the "Archives of Internal Medicine," more than 5,000 women 40 years and older were followed for seven years to determine if supplementing with three B vitamins -- folic acid, vitamin B-6 and vitamin B-12 -- could affect the incidence of age-related macular degeneration. The researchers found that supplementation significantly reduced the risk of developing the condition. More studies are needed to know if simply increasing your dietary intake of these vitamins has the same effect.