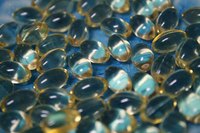 There are four different forms of stress. Acute stress and episodic acute stress are most common. Chronic stress and traumatic stress are the most serious of all and often require professional help. Stress can contribute to problems such as migraines, anxiety, depression, heart attack, gastrointestinal distress, stroke, and chronic aches and pains.
According to a survey published by the American Psychological Association, 54 percent of Americans say they are concerned about the level of stress in their everyday lives. Many people believe that taking B-complex vitamins can help relieve physical and psychological stress. B-vitamin deficiencies are often associated with certain stress-related symptoms including depression and anxiety.
Types of B-complex Vitamins
B-vitamins are water-soluble vitamins that play an important role in immune and nervous system function, cell growth, energy production, the metabolism of fats and carbohydrates, normal growth and development, mental health and stress.
A B-complex vitamin is comprised of eight essential B vitamins and several related substances. The eight vitamins are vitamin B1 (thiamine), vitamin B2 (riboflavin), vitamin B3 (niacin), vitamin B5 (pantothenic acid), vitamin B6 (pyridoxine), vitamin B7 (biotin), vitamin B9 (folic acid), and vitamin B12 (cyanocobalamin). The three substances are inositol, choline, and para-aminobenzoic acid.
Functions
Pantothenic acid plays an important role in relieving stress. Often referred to as the "anti-stress vitamin," vitamin B5 is critical to the manufacture of stress-related hormones produced in the adrenal glands, according to the University of Maryland Medical Center. B-complex vitamins can help restore the adrenal glands from stress.
Vitamin B6 is a positive influence on the production of the brain chemical serotonin. Changes in serotonin levels can alter the mood and affect a person's ability to cope with stress.
B-complex vitamins that contain thiamine, riboflavin, and niacin are helpful in dealing with physical stress, according to nutrition experts at the University of Texas Southwestern Medical Center at Dallas. These vitamins are often recommended to help acute stress associated with surgery and injuries. B vitamins play a vital part in energy metabolism. Finally, the substances choline and inositol offer a calming effect that can be helpful in dealing with stress.
Natural Sources
Beans, liver, wheat bran, tuna, bananas, oats, potatoes, turkey, avocados, salmon, lentils, chile peppers, spinach, turnip greens, eggs and whole-grain cereals, are just some of the natural sources of B-complex vitamins.
Other Vitamins
In addition to B-complex vitamins, vitamins A, C, and E may help to relieve stress. According to P. Samuel Campbell, Ph.D., and other scientists at the University of Alabama in Huntsville, large doses of vitamin C may help alleviate the body's response to stress. Vitamin C also works in conjunction with B vitamins to aide in the metabolism of the stress-related hormones dopamine, cortisol, adrenaline, and noradrenalin.
Popular minerals believed to help stress are calcium, chromium, magnesium, selenium and zinc. Magnesium limits the stress response, says Dr. Carolyn Dean, author of "The Magnesium Miracle." These minerals can be found in most multivitamins.
B-Complex Supplements
B-complex vitamins are typically available in two forms: B-50's and B-100's. The B-100 complex is about twice as potent as the B-50 complex. "B-Stress" and "Balanced B-Complex" are two other B-complex formulations.