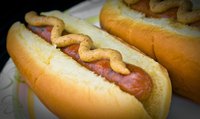 A hot dog cart must be licensed like any other food business. Permit regulations vary, even within cities and can be quite strict. As with any food establishment, you will have to meet standards of cleanliness, storage, handling, cooking and holding temperatures.
Public Health Inspection
Your cart will have to meet public health department standards and be inspected and stickered before you will be eligible for a permit to operate your stand. Even if you set up in non-city areas, you will need a permit from your county health department. Check with health department officials regarding health standards before the inspection. Don't assume that because you passed an inspection in one county that you'll be approved in another. Standards vary by county.
Local Permits and Licenses
Permits can vary by county, city and even neighborhood. Your permit may only entitle you to operate in a certain area. You may not be able to switch carts from one area to another if you have more than one cart. You may have to have a separate concession contract in order to operate within park boundaries in addition to a city permit. The permit office can help you obtain all necessary permits for your hot dog cart.
Times
Your permit will specify what times you may operate your cart. You will have to have a special permit to operate outside those hours. Some time permits also restrict what days you can operate.
Location
You may be prohibited from operating in certain areas, such as high traffic areas, near schools, bus stops, fire hydrants, hospitals, private property (without notarized permission) or public buildings. You may have to meet requirements for how close to the street you can be, which side of the street you can be on or who you can sell to. Check your permit before setting up your stand. Depending on your location, you may need an additional certificate of occupancy.
Beverages
Separate licenses and permits may be required for preparing and selling such beverages as coffee, juices, shakes and shaved ice items. Selling alcohol probably requires a separate permit or license and it may be prohibited to sell certain foods and alcoholic beverages from the same vehicle.
Summary
Setting up a pushcart vending business requires serious consideration, an investment of time and money to meet government regulations and acquire the licenses, contracts and permits needed to legally operate. In addition, you will need to obtain a Tax ID number from the Internal Revenue Service, set up with the state to pay sales tax if that is required. You'll need to establish a bookkeeping system or hire a bookkeeper to do your books and figure your taxes. Make sure, therefore, that you find a good, high traffic spot and produce a good product. This is a real business and you must treat it like one.