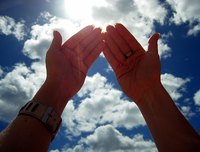 It has been said that hands do not lie. You can have age erased from your face and body, but your hands will give you away. Today there are treatments to give you back the soft, plump-looking hands of your youth. All you need is time, money and a good med spa, dermatologist or plastic surgeon.
Surgical Treatments
Ambulatory phlebectomy can remove the surface of varicose veins. Most often this can be done in a doctor's office using local anesthesia. There is very little scarring after the vein is removed. A more-popular treatment is sclerotherapy. This method can be used for varicose and spider veins. The vein is injected with a medication that causes the vein to collapse. It is then absorbed by the body over a period of a few weeks. Ablative lasers are also used to reduce or eliminate hand veins. Sometimes a combination of sclerotherapy and lasers are used.
Other Treatments
Injectable fillers can be used to plump up the skin on the hand to make the veins less noticeable. Fillers must be repeated; they are not a permanent fix. Many plastic surgeons are also doing fat transfers from one part of the body to the hand, hoping for a more long-term filler.