Between each vertebrae of the spine is a disk that absorbs shocks. In some people, these disks begin to degenerate. The degeneration of the L4-L5 disk in the lower back can cause other problems that lead to pain, incontinence and tingling and numbness in the buttocks and leg.
Location
Each disk is identified by the vertebrae it is between. The spine is labeled by sections, with the cervical vertebrae at the top, followed by the thoracic vertebrae, then the lumbar vertebrae and the sacrum vertebrae at the bottom. Each vertebra of each section is numbered from the top to the bottom, beginning with the number 1. Thus, the first lumbar vertebra is referred to as L1. The L4-L5 disk is the disk between the fourth and fifth lumbar vertebrae, just before the sacrum.
Features
Degenerative disk disease, also referred to as spondylosis, results when disks wear down. According to medicinenet.com, "Each disc is designed like a jelly donut with a central softer component (nucleus pulposus)." The composition of the disk is water, which makes the disk spongy. As you age, the disk loses some of the water contained in it and makes it less of a cushion for the back.
Effects
Degenerative disk disease can cause localized back pain and lead to other problems, such as disk herniation and sciatica. When the disk herniates, it bulges out and sometimes presses against a local nerve, such as the sciatic nerve (sciatica). When the L4-L5 disk herniates, it can cause pain, tingling and numbness down the buttocks and leg if it is pressing against a nerve. According to the New York University Hospital Spine Center, degeneration of a lumbar disk, such as the L4-L5, can lead to bowel and bladder problems, such as incontinence.
Diagnosis
Disk degeneration is diagnosed through an MRI or X-ray. Disks do not show up on an X-ray because they are soft tissue, but they can show the distance between the discs, specifically the distance between the L4 and L5 vertebrae. An MRI will show the discs and reveal any herniation.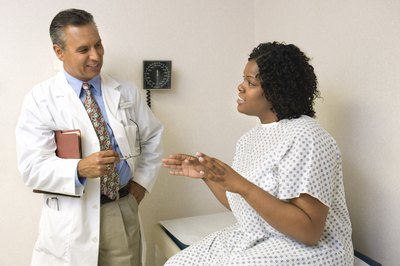 Treatment
There are a few options for treatment and the plan for treatment depends on the effects of the degeneration, severity of the problem and the age of the patient. Some patients may undergo physical therapy to strengthen the back. Another option is pain management, which can involve pain medication or epidural steroid injections. With epidural steroid injections, the doctor injects steroid into the epidural space around the L4-L5 disk to help manage the pain associated with the degenerated disk. Surgery is usually as a last resort or for extreme cases of degeneration. Surgery can involve removing the L4-L5 disk.