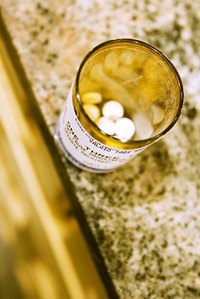 Xyience is a brand of energy drinks and supplements that markets itself toward intense exercise aficionados and is associated with the growing popularity of professional mixed martial arts. The various products of Xyience are known to have common side effects that are usually found in other energy drinks and supplements.
Xenergy Side Effects
Xyience.com, the official site for Xenergy Drinks does not list any known side effects. Not surprisingly, there are no studies or data shown to support their claim of increasing mental and physical exertion and stimulating metabolism. Reviews for the Xenergy drink, such as the one by Bodybuildingforyou.com, also do not identify any side effects experienced from taking the product. The only possible side effects may occur from the drink's proprietary blend consisting of various caffeine substances. As noted by celestialhealing.net, you may be experiencing caffeine related side effects if you notice irritability, nervousness, elevated heart rate, difficulty sleeping and headaches.
NOX-CG3 Side Effects
Xyience's NOX-CG3 is a supplement that combines several forms of three ingredients: creatine, arginine and glutamine. This supplement is designed to increase the muscle's ability to use the anaerobic energy pathway during strength training and by dilating blood vessels for greater oxygen and nutrient flow and improving muscle tissue rebuilding. Creatine and nitric oxide side effects may occur such as diarrhea, nausea, headaches, high blood pressure and muscle strains.
Considerations
Xyience's fat burner, which is known as the Xelerate Xtreme Thermogenic Formula, appears to be no more harmful than most other similar dietary supplements that are designed to burn fat. Thiamine, niacin, caffeine, green tea extract and rhodiola extract are some of the most prominent ingredients in the product. But all of these ingredients are known to produce little to no side effects.
Effects
Xyience's thermogenic fat burner and metabolism stimulant has not been FDA- approved or tested in studies for effectiveness. Most likely, it will provide a general increased alertness effect to the user and may aid in minor increase in metabolism and fat burning.
Ingredients
Xyience products contain a thiamine dosage that is well over the daily recommended value. While this vitamin is involved in nervous system functioning and carbohydrate metabolism, Nlm.nih.gov notes that it has only been shown to be truly beneficial to those who suffer from symptoms of metabolic disorders associated with genetic diseases. Furthermore, the 100 mg serving dosage of caffeine in this product is the same dosage amount that has been shown to increase metabolic rate by 3 to 4 percent for two to three hours.