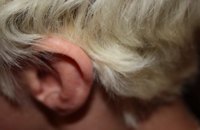 Ear cartilage pain is most often a result of perichondritis, an infection of the tissue that surrounds the ear, or the cartilage. The cartilage is the outer part of the ear and can be very sensitive.
Causes
Causes of ear cartilage pain include those that damage the tissue. These causes include activities such as ear piercing, surgical trauma, burns or injuries. Piercing of the cartilage is the most common cause of ear cartilage pain. Perichondritis isn't usually caused by piercing, but rather by bacteria.
Symptoms
Symptoms of perichondritis can vary depending on the severity. These symptoms can include redness of the skin around the ear, swelling of the tissue, a fever and white discharge from the cartilage.
Diagnosis
Perichondritis is difficult to diagnose because ear cartilage pain is common and may not be of serious concern. The doctor will look at your medical history concerning the ear and diagnose it based on the appearance of the skin.
Treatment
The most common treatment for perichondritis is the use of antibiotics. Antibiotics may be taken orally or given through an IV. If the pain is severe, a surgeon may need to make a small incision and rid the ear of the pus.
Swimmers Ear
In rare cases, the ear cartilage pain may in fact be an infection called swimmers ear. The signs of this infection include itchiness, dry skin and redness. If you are diagnosed with this condition, you may need antibiotic ear drops.