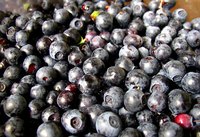 Everything that lives must die, and that includes the cells of the human body. Cells die either through injury, including physical damage or toxic poisoning, or through suicide. When cells kill themselves, it's called apoptosis. While the process occurs naturally during periods of growth and development, apoptosis may also be induced to destroy cancer cells. Eating a diet rich in certain foods can induce apoptosis and fight cancer.
Blueberries
Bursting with powerful antioxidants, blueberries should be a staple of every diet. The phenolic compounds in blueberries have demonstrated the ability to cause apoptosis in colon cancer cells. Blueberries' long list of phytonutrients also includes the flavonoid kaempferol, which has been shown to reduce the risk of ovarian cancer. Other sources of these remarkable phytochemicals include blackberries, prunes and purple grapes.
Carrots
Carrots contain large amounts of carotenoids, which are the natural pigments that provide color to orange, red and yellow fruits and vegetables. These carotenoids, such as beta-carotene, also play a key role in triggering apoptosis in cervical, lung, prostate and skin cancers. Tomatoes get their bright red coloring from lycopene, a carotenoid linked to colon and prostate health. Some other foods with significant amounts of carotenoids are apricots, mangoes, squash and sweet potatoes.
Citrus
Citrus fruits, particularly oranges, are rich in not only carotenoids but flavonoids, limonoids, terpenes and vitamin C, all of which possess strong anti-cancer properties. The combination of these valuable antioxidants can induce apoptosis in certain cancers, including breast and colon.
Fish
The omega-3 fatty acids in fish deliver countless health benefits, not the least of which is sparking apoptosis. Omega-3 fatty acids have been particularly effective in fighting breast and colon cancers. Vegetarians not able to eat fish can get the same benefits from flaxseeds or flaxseed oil. The selenium, vitamin B12, and vitamin D in fish also work to combat cancer.
Green Tea
Drinking green tea is one of the easiest steps toward cancer prevention. Green tea's valuable antioxidants, called polyphenols, attack cancer cells and induce apoptosis. Regular green tea consumption is most effective against prostate and breast cancers.
Turmeric
A peppery, warm spice, turmeric is found in curry and many Indian dishes. Curcumin is the natural pigment that gives turmeric its yellow coloring, and it also induces apoptosis in cancerous tumors. Turmeric has been especially potent in battling colon cancer, prostate cancer and childhood leukemia.