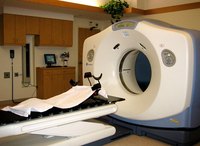 Abdominal tuberculosis (TB), also known as gastrointestinal TB, is a major problem in the developing world. It is exacerbated by the difficulty in diagnosing this particular form of TB. The disease tends to mimic the symptoms of other more widely seen ailments, which often results in misdiagnosis and courses of treatment that do little or nothing to halt the illness's advance. Conclusive diagnosis usually requires special testing procedures.
The Disease and Its Toll
There has been a worldwide resurgence in TB, which is caused by a bacterium—Mycobacterium tuberculosis—that is carried by roughly one-third of the world's population. Most of these people are simply carriers and don't suffering from active disease. TB most often targets the lungs, but it can affect other parts of the body as well. Of the 3 million TB deaths reported worldwide each year, the abdominal form accounts for only 1 to 3 percent, according to the findings of a study reported in the World Journal of Gastroenterology.
Misleading Symptoms
Abdominal TB can target several areas within the gastrointestinal system, including the intestinal tract, peritoneum and adjacent lymph nodes. Symptoms of intestinal infection, according to the TB Alert website, include generalized abdominal pain, diarrhea and rapid weight loss. The peritoneal type causes intermittent bouts of severe abdominal pain, abdominal swelling and bowel irregularity. Frequent misdiagnosis results from the similarity of these symptoms to those of other gastrointestinal illnesses.
Imaging
In an article written for the Journal of the Indian Academy of Clinical Medicine, Rita Sood reported on her experience in diagnosing the disease with computed tomography (CT) scans, ultrasound scans, and magnetic resonance imaging (MRI). Sood, a professor at the All India Institute of Medical Sciences, said that the most useful of the three methods was CT imaging, which made diagnosis of this disease fairly straightforward and allowed doctors to institute appropriate treatment methods more quickly.
Laparascopy
Writing in a 2007 issue of the Saudi Journal of Gastroenterology, a group of doctors practicing in Iran argued that laparoscopic biopsy was the quickest and least invasive way to conclusively diagnose abdominal TB. The scope is inserted into the abdominal cavity through a tiny incision in the abdominal wall or near the navel. The laparoscope allows doctors to take samples of inflamed tissue that can then be tested in the laboratory for the telltale signs of TB infection.
Fine Needle Aspiration Cytology
Writing in the British Journal of Radiology, a group of Indian doctors reported that fine needle aspiration cytology (FNAC)—essentially a needle biopsy—of tissue within the abdominal cavity was far more successful when used in conjunction with ultrasound imaging for guidance in inserting the needle and taking samples of infected tissue. The doctors argued that "although barium studies and CT are successful in assessing abdominal pathology in tuberculosis, imaging findings are not always specific," which makes FNAC a useful tool for finalizing a diagnosis of TB.