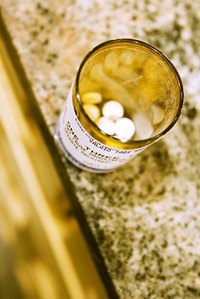 Amlong is a prescription medication that is widely used in Sri Lanka, Myanmar and Peru. It is not available in the United States, but the American equivalent is known as Amlodipine (Norvasc). As with all medications, there is a risk of certain side effects for people who use Amlong.
What is Amlong?
Amlong is a prescription drug that belongs to a family of medicines known as calcium channel blockers. It is prescribed primarily to patients who suffer from high blood pressure. Amlong works to lower blood pressure and make the heart more efficient by decreasing heart rate slightly, dilating blood vessels and increasing blood flow to the heart.
It is also prescribed to some patients to alleviate angina, a chronic form of chest pain.
Side Effects
Common Amlong side effects include headaches, sleepiness, depression, dizziness, a warm feeling under the skin, nausea, abdominal discomfort, loss of appetite, constipation or diarrhea, excessive urination, insomnia, mild rash or itching, disturbing dreams, joint and muscle pain, changes in weight, dry mouth, excessive sweating and thirst.
These side effects are usually mild and do not cause most patients to stop taking Amlong. If they should become bothersome, consult your physician.
More Serious Side Effects
There are some side effects that, if experienced, require a doctor's attention. These side effects include feeling faint, swelling or edemna in the hands, ankles or feet, chest pain, irregular or pounding heartbeat, unexplained bruising or weakness, numbness, pain or a tingling feeling anywhere on the body.
These are symptoms of a negative reaction to Amlong and need to be evaluated by a health professional as soon as possible. If you experience these side effects, it is critical that you contact your doctor to prevent a life-threatening condition such as a heart attack or stroke.
Contraindications
If you have a history of congestive heart failure, liver or kidney disease, or are allergic to any of the components of Amlong, you shouldn't take it.
Taking Amlong alongside beta-blockers, which are medications that lower blood pressure using another mechanism, can cause dangerous drug interactions. Some examples of common beta-blockers include Blocadren, Corgard, Inderal, Toprol and Zebeta, but there are others on the market.
If you take any other medications, including prescriptions, over-the-counter and natural supplements, be sure to tell your doctor to avoid possible interactions.
Pregnant and breast feeding women should not take Amlong due to risks posed to the baby.
Warnings
If you should experience breathing difficulties or swelling of the face, tongue or throat, head to the nearest emergency room or dial 911. These are symptoms of severe allergic reaction to Amlong and can be life threatening if left untreated.
If your skin or the whites of your eyes should become yellow while taking Amlong, contact your doctor immediately as this is a sign that your liver is reacting negatively and is unable to metabolize the medicine. This is a condition called jaundice. It signifies that your liver is overwhelmed and can be fatal if left untreated.