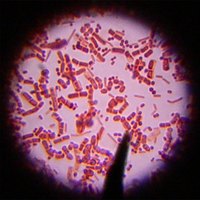 Your body produces stomach acid to aid in the digestion of your food and to kill potentially harmful bacteria. Stomach acid plays a large role in keeping our bodies functioning; however, occasional overproduction of stomach acid can lead to discomfort or to more serious damage. According to MedlinePlus.com, a helicobacter pylori infection is very common in the overproduction of stomach acid.
Helicobacter pylori
According to MedlinePlus.com, helicobacter pylori bacteria weaken the stomach's mucous lining, which helps protect the stomach from the acid. Once weakened, the stomach is susceptible to pain and damage from its acid, making H. pylori a significant contributor to the overproduction of stomach acid. H. pylori contribute to the formation of ulcers (holes in the stomach or its mucous lining) and chronic gastritis, which is stomach inflammation.
Causes and Risks
According to MedlinePlus.com, the H. pylori bacteria can be passed from person to person. Therefore, people residing in unsanitary environments are more likely to be infected by it. Though the stomach's acid is capable of killing most consumed bacteria, it is unable to fight H. pylori. Infection by H. pylori does not guarantee problems. Those with abnormal immune systems, or who drink coffee or alcohol and smoke are more likely to develop problems from H. pylori bacteria than people who don't have problems with their immune system or drink these irritants.
Symptoms and Treatment
According to MedlinePlus.com, the symptoms of a H. pylori bacterial infection are that of ulcers and chronic gastritis. These symptoms include stomach pain, uncontrollable belching and vomiting, bloating and fullness, indigestion, mild nausea, and hunger after recently eating. Treatment of an infection includes antibiotics to get rid of the H. pylori. If you have an ulcer or chronic gastritis, treatment also includes antacids to manage the symptoms of your ulcer and inflammation.
Other Causes
Though H. pylori are the most common cause of the overproduction of stomach acid, there are some other things that contribute to it as well. First, living a poorly-managed stressful life can increase your irritation of stomach acid, causing stomach upsets and high blood pressure. Stress also can decrease the strength of your immune system which protects you from bacteria. Alcohol and caffeine also contribute to the harmful effects of stomach acid. Caffeine can cause nausea and stomach irritation.
Lifestyle changes
To decrease your risk of contracting an H. pylori infection, it is important to sanitize your environment whenever possible. Keeping yourself germ free decreases your risk of any type of infection. To reduce other causes of stomach acid overproduction, you can reduce the stress in your life. According to the Mayo Clinic, meditation and exercise such as yoga are great ways to relieve stress. Also, reducing your consumption of irritants like caffeine and alcohol can help prevent ulcers and manage any that you already have.