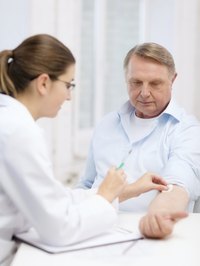 As with other parts of Medicare, Part D opens for initial enrollment in the months around your 65th birthday. If you delay your enrollment past this window, however, you may have to pay a penalty. The program calculates the penalty as an addition to your monthly premium, which increases the longer you delay your sign-up.
Medicare's Late Enrollment Penalty
The longer an elderly individual waits to get insurance coverage, in general, the higher the costs will be for the insurer. For that reason, Medicare penalizes late enrollments to lower its overall expenses. Part D's Open Enrollment Period begins three months before you turn 65, and then closes three months after the month in which your birthday takes place. So if you turn 65 on August 5, your initial enrollment period runs from May 5 to November 30. After the window closes, a penalty kicks in.
Late Enrollment and Breaks in Coverage
The penalty starts if you go 63 or more days after the close of the open enrollment period without prescription coverage of any kind. It also applies if you have a 63-day break in your coverage at any time.That break could be either from a Medicare Part D plan or any other "creditable" coverage. Medicare defines creditable coverage as a plan that matches or is better than Part D.
Late Enrollment Penalty Base Amount
The penalty is based on a the national base beneficiary premium, which reached $33.13 in 2015 and which is subject to change every year. The penalty is 1 percent of this figure, which is rounded to the nearest 10 cents, then multiplied by the number of full months you went without coverage. Medicare adds the penalty to your monthly premium, which is billed by the insurance company providing the prescription coverage.
Calculating the Part D Penalty
If you decide to forego prescription drug coverage for 10 months, and the base beneficiary premium is $33.13, the penalty is 10 percent of $33.13, or $3.13. Rounding to the nearest 10 cents gives an adjusted penalty of $3.10. That amount is added to your monthly premium when you enroll and remains in force as long as you keep the Part D coverage. It remains on your record even if you switch plans or insurance companies.