One ounce of chia seeds contains more omega-3 fatty acids than in 3 ounces of cooked salmon and as much iron as 3 ounces of top round steak. The seeds are also cholesterol-free, high in protein and have only a trace amount of saturated fat. Derived from the Salvia hispanica plant that was an ancient Aztec dietary staple, the dried seeds can be sprinkled on cereal or casseroles, used as an ingredient in breading or mixed into baked goods. Their ability to absorb water -- due to their high fiber content -- allows them to thicken smoothies, salad dressings and jams and to act as a substitute for eggs in some recipes.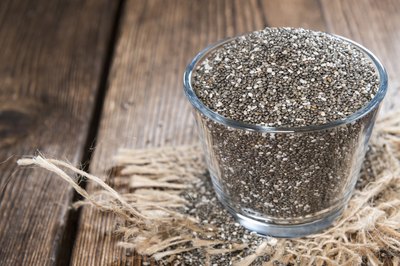 Rich in Omega-3 Fatty Acids
One ounce of dried chia seeds -- equivalent to about 2 tablespoons -- supplies approximately 5 grams of the omega-3 fatty acid known as alpha-linoleic acid or ALA. The body converts some of the ALA you consume into EPA and DHA, which are the omega-3 fatty acids in fish. For comparison, 3 ounces of salmon contains 1.1 to 1.9 grams of DHA and EPA. A high intake of ALA is linked to lower cholesterol levels, less arterial plaque buildup and a decreased risk of heart disease.
Excellent Source of Fiber
The average 19- to 30-year-old man needs about 34 grams of dietary fiber daily; a woman of the same age should have 28 grams. Most Americans consume far less than this amount, making them more likely to develop health problems such as high blood pressure, diabetes, stroke, heart disease, high blood cholesterol, obesity and digestive disorders like ulcers or gastroesophageal reflux disease, says a 2009 "Nutrition Reviews" article. Chia seeds can help: Each ounce contains almost 10 grams of fiber, or nearly 30 percent of a man's recommended daily allowance and over 35 percent of a woman's.
High in Essential Minerals
One ounce of chia seeds contains 28 percent of the recommended daily amount of selenium for adults. It also supplies 27 percent of a man's iron needs and 12 percent of a woman's, along with over 20 percent of the daily required intake of magnesium for both. Chia seeds are also a good source of calcium and zinc, with 18 percent of an adult's daily calcium recommendation and between 12 and 16 percent of an adult's zinc requirement per 1-ounce serving.
Provides B Vitamins, Particularly Niacin
Your body needs the B family of vitamins for the synthesis of red blood cells and DNA and to aid in the breakdown of carbohydrates, fats and proteins for energy. Chia seeds contain a variety of these vitamins, including folate, riboflavin and thiamine, but they are especially rich in niacin, also known as vitamin B-3. An ounce of chia seeds contains 2.5 milligrams of niacin, more than 15 percent of a man's requirement and almost 18 percent of a woman's.