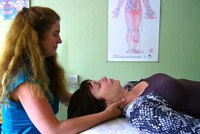 A cyst is a closed sac that has a distinct membrane and develops abnormally in the body. It is generally a benign form of tumor. Most cysts are problematic only if they become cancerous, infected or pose some type of structural issue. Neck cyst tumors exist as a wide variety of benign formations or lumps on some region of the neck.
General Symptoms
While there are a number of varying types of neck cyst tumors, general symptoms might include a palatable lump in the neck, trouble swallowing, difficulty moving the head and occasionally pain.
Causes
Causes of these formations are as wide-ranging as the tumors themselves. Some cysts are neoplastic, meaning a new growth of tissue serving no physiological function. While other cysts are congenital, meaning they have existed from birth.
Diagnosis
Several factors are involved in the diagnosis of neck cyst tumors, with special consideration given to the patient's age and history. With children it is important to determine if the nature of the mass is neoplastic, inflammatory or congenital. In adult patients, it is most likely to be a neoplasm or new growth. Needle aspiration biopsies may be used to diagnosis and establish a course of treatment.
Dermoid Cyst
Dermoid cysts are firm, noncancerous tumors usually located in the central region of the neck and attached to overlying skin, frequently containing skin cells and follicles. It is important to distinguish them from other types of masses that can exist in that area, such as inflamed lymph nodes or enlarged thyroid glands. Treatment is complete surgical removal.
Thyroglossal Duct Cyst
A thyroglossal duct cyst is a fibrous cyst located in the thyroglossal duct that presents as a midline neck mass. Large lumps may cause difficulty breathing and swallowing. Infection may produce pain. Most thyroglossal duct cysts, however, are smooth and painless. Treatment is surgical resection, often requiring removal of a portion of the hyoid bone.