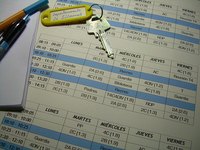 Annualized hours is a system of work scheduling based around a yearly, rather than weekly, overview of an employee's time. The practice was begun in England in the 1960s to compensate for busy holiday season conditions. It remains a primarily British form of work scheduling.
Hours per Year
Annualized hours refers to a form of employment based around working a certain number of hours per year. Instead of working a typical number of hours per week, hours are calculated for the entire year, which allows employers to take into account many different factors that may affect employee schedules. Pay rates are also calculated by and based on a certain number of hours per year.
Benefits
As an employee, a annualized hours system offers greater flexibility. The employee generally finds it easier to take vacations, plan time off and budget their remaining hours to fit their personal schedules. However, this freedom is generally restricted to non-holiday time frames, since a primary benefit for the employer is that they can schedule a greater number of the annualized hours for the busy holiday seasons.
Employer Benefits
Annualized hours are often recommended to employers as a way to save money. Having a rigid schedule of hours per week often means that the company must hire seasonal help or pay overtime. With annualized hours, however, schedules can be shifted to have full-time employees work longer shifts during busy times, saving the company money. Clearly, if used incorrectly this practice can be very unfair to employees, so it often takes work on the company's part to ensure employees are not being mistreated or overworked.
Variants
Annualized hours revolve around a yearly schedule, but this does not need to be the only form of scheduled hours available. Organizations may also choose to set hours around a monthly or quarterly schedule, if this works better for employer and employee alike.
Considerations
An annualized work schedule often requires detailed and meticulous planning on a company's part, with special attention paid to the overlaps of employee work hours. If care is not taken, annualized hours systems can actually cost the company productivity and money rather than increasing efficiency. Annualized schedules may also make it difficult for willing employees to earn extra money working overtime.