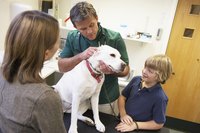 Mange is a skin condition that is caused by parasites living on your dog's skin and in his hair follicles. There are two primary types of mange that can affect your dog. Demodectic mange, also known as red mange, and sarcoptic mange. It is essential that you get your dog's mange properly diagnosed by a veterinarian so that you can treat it appropriately.
Demodectic Mange in Young Dogs
The parasites that cause demodectic mange can spread from dog to dog through skin contact but demodectic mange does not affect humans and typically isn't very contagious. Young dogs are the most likely to develop demodectic mange. In most cases, they will develop relatively small bare patches of skin. These patches typically are not itchy or red and will clear up on their own as your dog's immune system develops a response to the parasites.
Demodectic Mange in Adult Dogs
Adult dogs who develop demodectic mange will lose hair and may have red, scaly, itchy and irritated skin. As the mange infestation worsens, the dog may develop secondary skin infections as a result of their itching. The skin infection can cause foul odors, fevers and other various signs of illness. Demodectic mange is not normal in adult dogs and it may be a sign that your dog has a compromised immune system. Some breeds of dogs, such as bulldogs, have a hereditary predisposition to demodectic mange and are significantly more prone to developing chronic demodectic mange.
Sarcoptic Mange
Sarcoptic mange is extremely contagious and can be spread to humans as well as other types of animals. Sarcoptic mange tends to start on the face and joints but can spread quickly across your dog's body. It will cause extreme itchiness, scratching, hair loss and can lead to sores and infections.
Dealing with Mange
You need to take your dog to your veterinarian for an official diagnosis if you notice he is showing symptoms of mange. Your veterinarian will take a skin scraping from your dog and examine the scraping under a microscope to determine precisely what type of mange your dog has. After your dog has been diagnosed, your veterinarian may prescribe antibiotics, oral medication, medicated shampoos, ointments or dips. If your dog has sarcoptic mange, you may have to treat all your animals as well as decontaminate their living areas.