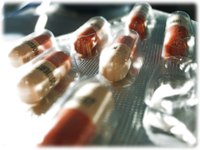 Sporidex, generically known as cephalexin, is a drug used to treat a variety of bacterial infections. As is common with prescription drugs, Sporidex may cause a number of mild to severe side effects based on the particular individual and the dosage.
Identification
Sporidex is a drug that is classified as an antibiotic. According to Drugs.com, it works specifically by "...interfering with the bacteria's cell wall formation. This weakens the cell wall, causing it to rupture and kills the bacteria." Sporidex will not clear viral infections.
Common Side Effects
The use of Sporidex may lead to a number of common side effects including joint and stomach pain, dizziness, headache, diarrhea, tiredness and indigestion. Though common and less serious than other side effects, if any of the preceding side effects worsen or persist, contact your doctor. Worsening side effects may signal a threatening situation.
Serious Side Effects
Users of Sporidex may experience the following severe side effects in rare cases: unusual vaginal pain, confusion, hallucinations, fever, yellowing of the eyes or skin, severe stomach pain, extreme dizziness, irregular urination, bloody diarrhea, severe skin irritation, dark colored urine and swelling of the face or throat. Contact your doctor immediately if any of the above side effects occur.
Use
Take Sporidex tablets orally with an 8-ounce glass of water. Never crush or chew the tablet as it can cause an incorrect release of the drug into the body system. Follow your doctor's prescription closely to avoid overdose or using the medication for an extended time period. Though symptoms of infection may seem clear, always continue use of the medication as prescribed to avoid a recurrence of the infection. Store at room temperature away from heat and moisture.
Warning
Using Sporidex for longer than the prescribed time frame can cause a second infection. Do not use in children under the age of 10 years old. Consult with your doctor if you are pregnant or become pregnant during use. Use with extreme caution in the elderly.
Possible Drug Interactions
Sporidex may interact negatively with a number of drugs including blood thinners such as warfarin, Fortamet, Glucophage, Riomet, Metaglip, Avandamet and Benemid. Since this is not a complete list of possible drug interactions, alert your doctor to your use of any of these medications.