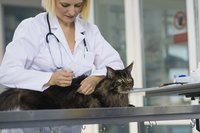 Torbutrol is commonly prescribed in low doses to cats as a cough suppressant. In higher doses, it is used as a pain reliever, preanesthetic tranquilizer or as an anti-nausea medication for cats receiving chemotherapy. Individuals who are giving their cat Torbutrol should report any abnormal behavior or side effects to a veterinarian immediately.
Drug Classification
Butorphanol, the generic name for Torbutrol, is an opiate and a class IV controlled substance. Other brand names for the drug are Stadol and Torbugesic. It works by blocking certain receptors in the brain, while stimulating others. Unlike other opiates, butorphanol does not suppress the respiratory system. Veterinarians must maintain a license with the Drug Enforcement Administration and cat owners can obtain the medication only with a prescription. Vets must authorize each prescription; refills are not allowed.
Side Effects
Common side effects cats experience with Torbutrol include sedation, lack of appetite and excitement. Diarrhea is a less common side effect. In some cases, it will slow the cat's heart rate, but rarely will this affect the cat. Some cats may experience an allergic reaction with swelling of the face, vomiting, difficulty breathing or a skin rash. Contact your veterinarian immediately if you see any of these symptoms.
Drug Interactions
Cat owners must disclose any other medications that the cat is taking as Torbutrol interacts with several other drugs. It may interact with morphine, oxymorphone, meperidine, antihistamines, barbiturates and other drugs with sedative properties. Tell your vet about any previous drug reactions your cat may have had as this might help the vet predict a reaction to Torbutrol.
Torbutrol Contraindications
Torbutrol should not be used in cats with kidney failure, hypothyroidism, Addison's disease, head trauma or any dysfunction of the nervous system. Torbutrol should be avoided in cats with liver disease as they will not be able to filter the drug out of their system. Pregnant and nursing cats should not receive the drug because it will pass through the placenta and into the milk.