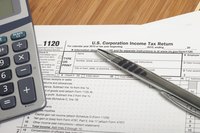 Just as the Internal Revenue Code establishes filing statuses and tax rates for individuals, it defines the structures that determine organization taxation. The most common organizational structure, the C corporation, gets its name from Subchapter C of Chapter 1 of the code. Subchapter C states that businesses and their owners pay taxes separately. This "double taxation" means that C corporations pay tax on profits, and any dividends they distribute to their shareholders become taxable income for those individuals.
C Corporation and the IRS
The tax code regards C corporations, or simply "corporations," as legal entities or "people" that can own property, enter into contracts and sue or be sued. This status means their income, or profits, are taxed. They file taxes using Internal Revenue Service Form 1120 or 1120-A, U.S. Corporation Income Tax Return. When corporations distribute their profits to shareholders as dividends, the IRS doesn't let them deduct this expense. It does, however, require shareholders to include these dividends with other income on which they pay tax. Shareholders cannot claim losses their C corporation experienced to reduce their income tax obligations.
Types of C Corporations
C corporations can be public, closely held or private. Public corporations have an unlimited number of shareholders, while closely held corporations have 50 or fewer, most of whom actively manage the business. Another variation of closely held C corporations has five or fewer stockholders owning at least half of the shares. Private C corporations, such as Toys R Us, Enterprise Rent-a-Car and Cargill, don't trade their stock. All C corporations enjoy limited liability: Their owners have no personal responsibility for the organization's debts or obligations.
Establishing a C Corporation
A business becomes a C corporation by filing articles of incorporation with its state government, usually the secretary of state. It must create bylaws, or its rules of operation, establish a board of directors to govern it and elect officers. Regular board meetings and an annual shareholder meeting must take place and minutes must be kept. Many startups begin as privately held C corporations and later become publicly traded corporations.
C Corporation Ownership
C corporations can raise capital by selling stock, which gives them an advantage over other types of legal entities, such as sole proprietorships and limited liability companies, or LLCs. They also have several options as to who can become a shareholder, the type of shares they issue and the rights these shares give stockholders. For example, preferred-share holders usually get dividends before common-share holders and at a fixed amount, but they can't vote at annual meetings, while restricted shares given to executives as part of their compensation limit the owner's selling rights. Common shares give stockholders voting rights and eligibility for dividend distributions.