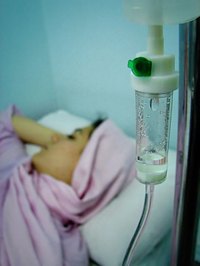 Endometriosis occurs when tissue that is supposed to grow inside the uterus grows outside of it, such as on the ovaries, fallopian tubes, bowels or bladder, states ovariancystsinfo.com. When endometriosis surrounds ovaries, they can rupture, causing pain, serious medical complexities and even infertility. Women should know the symptoms, identify them and seek medical help right away.
Features
Endometriosis is believed to be present in about 5 to 15 percent of all premenopausal women. The average age of diagnosis is 28, and 75 percent of cases occur between 24 and 50, according to GYNOB.com.
Ovariancystsinfo.com reports that 80 percent of pelvic endometriosis is found in one or both ovaries. Dark, reddish brown blood is filled in endometriomas, a type of cyst, that may be up to 8 inches in diameter. The endometriomas can finally occlude most of the ovary, causing infertility or a rupture.
Effects
If an ovarian cyst formed by endometriosis is undiscovered, it might rupture. According to GYNOB.com, endometriosis creates an inflammatory state that "causes pain, internal scarring (adhesions) and the production of substances that mysteriously interfere with fertilization."
Women must therefore understand the symptoms. The sooner treatment can begin, the less likely serious problems, such as a ruptured ovarian cyst, will occur.
Types
The most common type of pain associated with a ruptured ovary is throbbing. Many women are unable to walk or stand. GYNOB.com describes endometriosis as a terrible, painful disease.
Before the rupture, women sometimes experience the pain of the inflammation, and "the mechanical twangs of normally freely moving organs before endometriosis negotiating the passage of feces through kinked or suspended loops of bowel after endometriosis," according to GYNOB.com.
The Mayo Clinic stresses that many women have few symptoms. Other women may experience menstrual irregularities, pelvic pain, dyspareunia, pressure or pain on bowels, nausea, vomiting breast tenderness, bloated abdomen or pressure on the rectum or bladder.
Warning
The Mayo Clinic explains that a rupture is serious and requires immediate medical attention. See a doctor if you experience sudden, severe abdominal or pelvic pain, or pain accompanied by fever or vomiting. It also adds that "these signs and symptoms—or those of shock, such as cold, clammy skin, rapid breathing, and lightheadedness or weakness—indicate an emergency."
Time Frame
No cure for endometriosis exists. Treatment, such as the birth control pill or surgery "with laser or electrocautery through a laparoscope, or in the case of severe cases, a regular incision and conventional surgery" may occur, according to GYNOB.com. Additionally, once an ovarian cyst ruptures, doctors often must remove part or all of the ovary, or in severe situations, perform a hysterectomy.