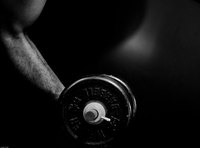 Hydroxycut and Xenadrine EFX are weight loss supplements that are intended to cause the user to lose excess weight, suppress appetite and boost energy. Xenadrine EFX is made by a company called Cytogenix. Iovate Health Sciences of Canada is the manufacturer of Hydroxycut. The supplements are meant to have similar purposes, but they have different formulations as well as different side effects. Consult your physician before making the decision to use any weight loss supplement.
Xenadrine EFX Ingredients
Xenadrine EFX is made from pantothenic acid, magnesium, norambrolide, tyroplex, green tea extract, caffeine, polyphenols, vitamin C, vitamin B6, tyramine, theobromine, yerba mate, guarana, calcium tribasic, dl-methionine, l-theanine, ginger root, grape seed extract, talc, magnesium sterate and gelatin. There are two proprietary blends found in Xenadrine EFX. A proprietary blend is a mixture of ingredients that is not disclosed by a manufacturer to safeguard their formula. The proprietary blends are called Isotherm and Thermodyne Complex.
Hydroxycut Ingredients
Hydroxycut is comprised of rhodiola rosea extract, withania somnifera extract root, green tea extract, caffeine anhydrous, calcium, chromium, potassium, garcina cambogia extract, gymnema sylvestre extract, soy phospholipids, white tea extract and oolong tea extract. The product also has two proprietary blends, which are Hydroxagen Plus and Hydroxy Tea. The amounts of each ingredient used in the proprietary blends is listed on the packaging.
Xenadrine EFX Side Effects
The side effects that are possible from the use of Xenadrine EFX include nausea, loss of appetite, dehydration, constipation, increased blood pressure, increased heart rate, increased anxiety and sleep complications. When Xenadrine EFX was first placed on the market, it contained the stimulant ephedra, which was banned from use by the U.S. Food And Drug Administration (FDA) in 2004. After the ban, ephedra was removed from the Xenadrine EFX formula as per federal regulations.
Hydroxycut Side Effects
Using Hydroxycut can potentially cause the onset of increased blood pressure, increased heart rate, loss of appetite, constipation, dehydration, seizures, headaches, nausea, heart problems, liver problems, liver failure and death. In May 2009, the FDA issued a warning to consumers about the potentially dangerous side effects of Hydroxycut. Iovate Health Sciences, the manufacturer of Hydroxycut, voluntarily recalled 14 of its products that are based on the Hyrdoxycut formula as a result.
Availability and Cost
Although 14 of the products marketed under the Hydroxycut name have been recalled, there are still some Hydroxycut products available. The price for the still available Hydroxycut products range in price from $15 to $35. The Hydroxycut products that are still available can be found online and through many major retailers. After the recall, GNC (General Nutrition Center) and Vitamin Shoppe, two major retail supplement outlets, stopped carrying any products related to Hydroxycut. Both chains have a refund policy in place for Hydroxycut products that were purchased from their stores.
Xenadrine EFX ranges in price from $18 to $50, depending on where it is purchased. It can be bought from national retail outlets and many sites online.